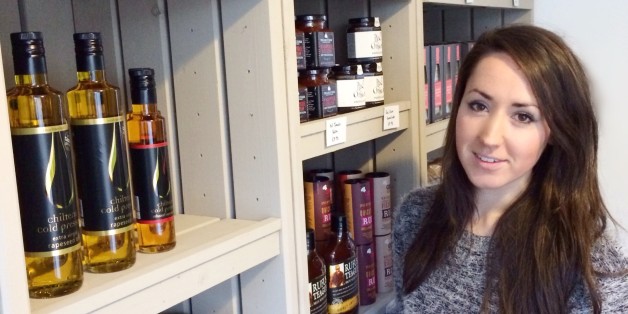 x
One day 25-year old Charlotte Bowers decided to pack in her cushy job as a management consultant and strike out on her own, setting up her own fine food shop.
With the aim to be simple and unpretentious about fine food, Charlotte has stocked her shop on Amwell Street, Islington, with the best British-sourced delicacies.
HuffPostUK caught up with to find out why she ditched a solid job to start her own business and how she has been getting on.
So Charlotte, tell me how you came to decide on setting up your first shop...
Since I can remember I have wanted to run my own business and be my own boss. However, when I graduated from university, it really didn't seem like a realistic route. The economic situation was difficult and I didn't know the first thing about how I could start, let alone run, my own company.
After a few years of working with a variety of corporates and entrepreneurs in my role as a strategy consultant, I started to believe it was something I really could do. I've always liked food shops and delicatessens, and know a fair bit about continental food from working in France, so a fine food shop seemed like a natural fit for me. After a lot of research and planning, I felt ready to take the leap.
How did you go about doing this? Any difficulty?
I started by pulling together a detailed business plan, to ensure that I had considered every element of setting up a business from marketing, to stock, to financials. Not only did this help to get my ideas together, it gave me a clear action plan and became a reassuring reference point whenever I felt overwhelmed by all the different things I needed to do.
Securing financing was a challenge, even with a sound business plan and support from the bank manager. Being young and not having a track record of running a business raises red flags in the automated systems banks use to review loan applications. However, this challenge was dwarfed by the difficulty in finding an affordable premises in a good location in London. The road to starting your own business is never going to be an easy one, but I firmly believe that if you have the ambition and drive you'll find a way to make it a reality.
Did you worry about leaving a "comfortable" job like management consultancy?
I made sure not to get carried away and to seriously think about both the pros and the cons of setting up my own business. Obviously leaving the security of a regular salary was a big worry however, it paled in comparison to the thought of actually following my dream."
How's trading going now? What are your ambitions now for the business?
I've now been open for about a week over the Christmas period and it's been absolutely brilliant to start getting people through the door. I've had a fabulous welcome from all of the locals and fellow retailers on Amwell Street.
My long term ambition is to open several shops in London and even maybe expand across the UK. This may seem ridiculously ambitious however, if you had told me this time last year that I would already have my own shop open, I would have thought you were crazy.