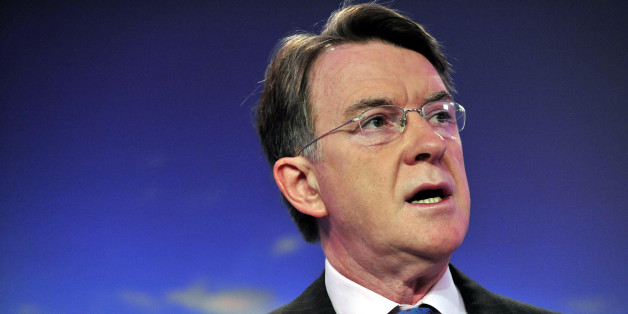 Tim Ireland/PA Archive
Lord Mandelson has warned granting British voters a referendum on European Union membership would be a dangerous "lottery".
On Friday the House of Lords debate the Conservative Party's European Union Referendum Bill. The legislation, supported by Downing Street, would commit the next government to holding a referendum on EU membership by 2017.
Speaking on BBC Radio 4's Today programme this morning, Lord Mandelson said a referendum was "a very blunt instrument which needs to be handled with great care".
"I think that membership of the EU is absolutely fundamental to British interests and therefore we should be very wary of putting our membership in the hands of a lottery in which you have no idea what factors, completely unrelated to Europe, will affect the outcome of that lottery and therefore affect the fundamental interests for Britain.
The former Labour business secretary and EU commissioner said Ed Miliband should also resist pressure to commit Labour to holding a referendum.
"I don't think that he should do so in the run up to the next election but I also think he is right not to set the Labour party against a referendum in principle or in any circumstances," Lord Mandelson said.
Conservative MP Rob Wilson accused Lord Mandelson of "talking down" to the British people. "Best advert for abolishing Euro political elite I've heard," he said.
Tory peer Lord Dobbs, who is piloting the Bill through the Lords on behalf of David Cameron, told peers "the people have the right to decide their own future".
And he said a referendum was not a lottery. "A referendum is about democracy," he told peers. "It's not about being anti-European or pro-European, it's about people being able to decide their own future. It will be a brave man who denies them that choice."
Conservative supporters of the Bill are worried that the Labour Party and Lib Dems will conspire to delay the passage of the legislation enough to prevent it becoming law.
Labour spokesperson Lord Liddle said the Bill was simply about the prime minister trying to heal a "deeply divided" Tory party.