Ariel Sharon, the former Prime Minister of Israel, has died aged 85 after many years in a coma, local reports say.
Prime Minister from 2001 until 2006, and the architect of Israeli settlements, Sharon had a fearsome military reputation but stunned the world in 2005 when he took the decision to withdraw Jewish settlements from Gaza.
Doctors said he had been gravely ill for some days before his death.
Ariel Sharon, pictured here in 2004, has died aged 85
Shlomo Noy, at the Sheba Medical Centre near Tel Aviv said Sharon had "departed peacefully with his family by his side."
Known as the Bulldozer, Sharon is one of the most controversial figures of the Israel-Palestine conflict, and his legacy is set to be hotly, and emotionally, debated.
A state funeral will be organized for Sharon by the Prime Minister's Office, the Jerusalem Post reported, who said that Sharon's sons Omri and and Gilad had been with him in the past few days.
President Shimon Peres, issued a statement paying tribute to his "dear friend Arik Sharon," an affectionate nickname. He was "one of Israel's great protectors and most important architects."
"He knew how to take difficult decisions and implement them. We all loved him and he will be greatly missed. I send my condolences to the Sharon family, may he rest in peace," Peres said.
A formidable military strategist, for decades Sharon supported the expansion of Israeli settlements, illegal under international law, and a hardline, often brutal, policy against Palestinian terror attacks.
Yet he was the architect of Israel's most decisive concessions toward a possible Palestinian state - the removal of all Jewish settlements and Israeli military from Gaza.
Sharon fought as a young man for the Jewish paramilitary Haganah, and later as a commander in the Arab-Israeli war between 1948 - 49. He fought on the ground in every war since 1948, earning Israeli accolades for his actions.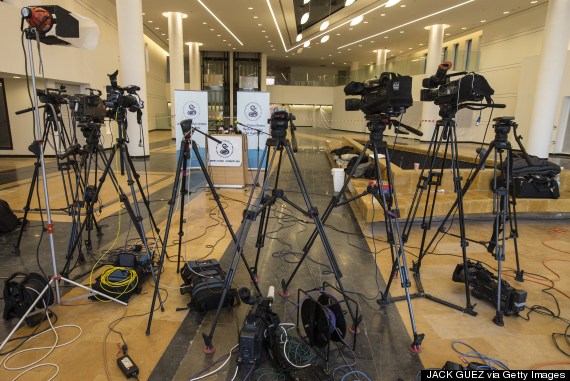 Television crews' equipment is seen waiting at the entrance to the ward where former Israeli prime minister Ariel Sharon is hospitalised
Sharon was elected to the Israeli parliament, known as the Knesset, in 1973 as an MK for right-wing party Likud, the party of current Israeli prime minister Benjamin Netanyahu.
He was the engineer of Israeli invasion of Lebanon in 1982, sending the Israel Defence Force into Beirut and forcing the expulsion of Yasser Arafat's Palestine Liberation Organisation from Lebanon.
He shared his strategy with extremely few, keeping details even from Prime Minister Menachem Begin.
In the ensuing violence, hundreds of Palestinians were massacred in refugee camps by a Lebanese Christian militia. The camps were controlled by the Israeli army, and blamed for allowing the killings, known as the Sabra and Shatila massacres.
Sharon was found indirectly responsible for the killings by an Israeli tribunal the following year, his reputation cemented as a hate figure for Palestinians, who called him The Butcher.
He was removed from office, but it was not the end of his career, to say the least. A Palestinian woman brandishes helmets during a memorial service for victims of Lebanon's Sabra refugee camp massacre
His popularity amongst the Israeli right-wing did not waver, he was Housing Minister in the 1990s and aggressively pursued settlement building in the West Bank and Gaza.
Sharon became leader of the Likud Party after Netanyahu's defeat in the 1999 general election.
After Ehud Barak, the then-Prime Minister's failure to reach agreement with the Palestinians at Camp David in 2000, Sharon told Israelis that Barak would be prepared to hand Jerusalem to the Palestinians, which he could never be allowed to do.
He took a security detail to the Temple Mount, known to Muslims as the Haram al-Sharif in Jerusalem, and Palestinians rioted, sparking what become known as the Second Intifada.
Sharon was elected Prime Minister in 2001, pledging a hardline with the Palestinians, saying he would not be bound by previous agreements. He set about building one of Israeli's most controversial projects, the West Bank security barrier, placing a wall of concrete and barbed wire between Israel and the West Bank. A Jewish settler lies on the sand as Israeli security forces attempt to evict him in the southern Gaza Strip in 2005
But in 2005, Sharon shocked the world, and his own party by ordering Jewish settlers withdraw from Gaza entirely, and three settlements in the West Bank. Israeli troops went in to forcibly remove Jewish settlers from the land.
His own party objected furiously and Sharon quit the Likud party he led and formed a new, centrist party, Kadima, with other parliamentary allies.
Hoping to be elected prime minister at the head of his new party, in December 2005 he became gravely ill from a stroke. Kadima went on to win the 2006 election under Ehud Olmert's leadership
Sharon never recovered, and had been in a coma for almost a decade.
Doctors said this week they had been unable to stabilize Sharon's renal functions at the Sheba Medical Center in Tel Hashomer.