The Government has renewed its push to promote controversial "fracking" for shale gas, as French energy giant Total confirmed it was investing in the industry in the UK.
Prime Minister David Cameron announced that local authorities in England would receive 100% of the business rates collected from shale gas schemes, rather than the usual 50%.
It is the latest move by the Government to promote the exploitation of unconventional gas in the UK, which the Prime Minister claimed could bring the UK 74,000 jobs, more than £3 billion of investment and cheaper and more secure energy.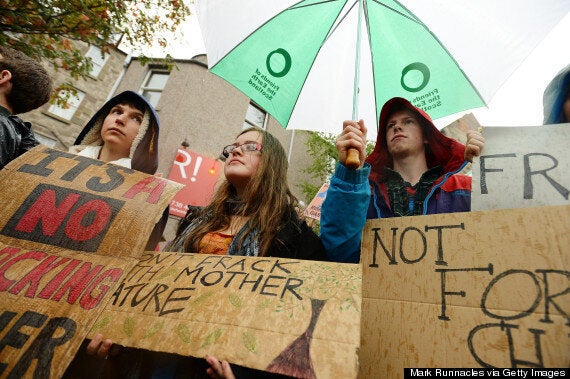 Fracking has attracted UK-wide protests
But environmentalists criticised the business rates incentive as a "bribe" to reluctant local authorities.
And they warned that it raised serious concerns over conflicts of interest if the councils benefiting from the money were the ones deciding on planning applications.
Opponents fear fracking, a process in which liquid is pumped deep underground at high pressure to fracture rock and release the gas in it, for shale gas will lead to the development of industrial sites and disturbance in the countryside.
Fears have also been raised over the potential for small-scale earthquakes and water pollution, and that a drive to exploit new gas reserves will turn the focus away from efforts to develop a low-carbon economy to tackle climate change.
Protests against a proposed fracking site at Barton Moss in Salford, Greater Manchester, have continued for almost seven weeks, with campaigners claiming hundreds of people turned out over the weekend to voice their opposition to the development.
On a visit to Gainsborough, Lincolnshire, in the area Total will be looking to develop shale gas wells, Mr Cameron defended the plans to push ahead with fracking, saying environmental concerns would be assuaged once people saw the benefits.
He said: "We have the strongest environmental controls in this country. Nothing would go ahead if there were environmental dangers. I think people can be reassured by that.
"But I actually believe it's when these wells go ahead, when people start to see the benefit, when people see there aren't environmental concerns, they will see that it is quite right that this is part of our long-term economic plan."
Kathryn McWhirter, from Balcombe, West Sussex, where protesters took direct action while energy company Cuadrilla conducted exploratory drilling at a site on the outskirts of the village last year, claimed Mr Cameron was giving out more misinformation on fracking to the British public.
She said: "First, he said shale gas would lower prices and create vast numbers of jobs.
"Both claims have been shot down by his own advisers, yet he continues to repeat them.
"Now he wants to bribe local people and council planners - what a conflict of interest, what desperation.
"After two years' sober research, we in Balcombe are all too aware of the hazards of modern fracking and our message to him is this: Our health and our environment are not for sale."
Officials said the commitment on business rates would mean councils hanging on to up to £1.7 million extra a year from each fracking site.
The industry has already pledged to give local communities £100,000 for each test drilling - and a further 1% of the revenues if shale gas is discovered.
And today it was announced that the industry would further consult on how to deliver the money to communities, with options including direct cash payments to people living near the site or setting up of local funds directly managed by local communities.
The Local Government Association's Mike Jones said that given the tax breaks proposed for shale gas and the impact it would have on local companies, payments should be higher at between 5% and 10%, in line with other parts of the world.
The community benefits of fracking should be enshrined in law, so they could not be withdrawn, and community payments should go into a charitable sovereign fund to be spent on local priorities, he argued.
But Green Party MP Caroline Lucas said that encouraging fracking by offering "bribes" to councils, and handing tax breaks to fracking companies, was "beyond irresponsible".
"It's outrageous that councils are being put under financial pressure to accept this at a time when they're being forced to make cuts to vital services."
Friends of the Earth's Jane Thomas said: "This latest Government move highlights the depth of local opposition to fracking and the desperate lengths ministers are prepared to go to overcome it.
"People are right to be concerned about the impact of shale gas extraction on their communities - especially as experts say it won't lead to cheaper fuel bills.
"This move raises potentially serious concerns about conflicts of interest, if councils that benefit from this money are also the ones who decide on planning applications from fracking firms in the first place.
"The Government should be encouraging the development of Britain's huge renewable power potential, instead of coming up with new incentives that keep the nation hooked on climate-changing fossil fuels."
Energy Minister Michael Fallon said the 100% business rates incentive on offer was the same as for renewable technologies, such as wind farms and solar energy.
But Anna Jones, climate campaigner at Greenpeace, said: "Comparing the incentives for renewable energy to the naked bribery of the Government's business rate bung simply isn't comparing like with like.
"Renewable energy is a proven energy source that will not damage the environment. Compare this to the environmental damage and disruption that fracking for a dirty fossil fuel would cause, and which may be too costly to extract.
"It's an obvious no-brainer that renewables are the energy of the future, not shale gas."
Opposition to fracking has not stopped interest from oil and gas companies in exploiting potential shale gas reserves across swathes of the UK, with Total announcing its investment today.
The company has taken a 40% share in two gas exploration licences for drilling in the Gainsborough Trough, in an area between Doncaster and Lincoln.
Total, which is already involved in shale gas projects in the US, China, Australia, Argentina, Poland and Denmark, described the move as an important milestone for the company in the UK.
The initial exploration will be conducted by partner IGas, and Total will take over operations as the project develops.
The project is part of £1.2 billion annual investments in oil and gas production by Total E&P, which is set to make it the largest oil and gas producer in this country by 2015.
Six people - three men and three women - were arrested today following the anti-fracking protests at Barton Moss, Salford, on suspicion of either obstructing the highway or obstructing police, Greater Manchester Police said.
Related