George Osborne promised in February 2010 to reduce youth unemployment as one of his benchmarks of economic success, in a target which he has so far disastrously missed.
According to the ONS, the number of young people out of work has increased from 732,000 in May 2010 to 752,000, with the graph showing that the number who have been in "long-term unemployment", without work for a year or more or two years or more, still rising.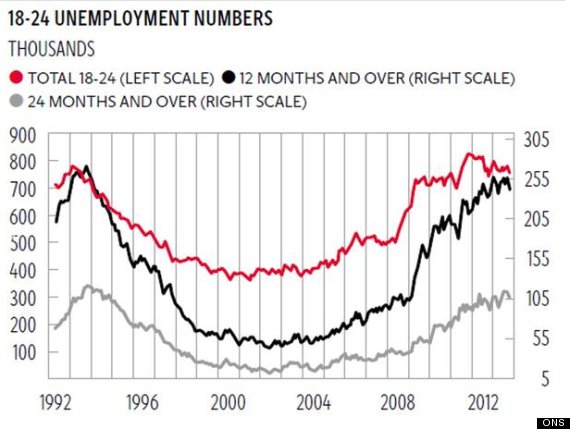 Coalition critic Professor Danny Blanchflower, who included the graph in his Independent column, wrote that the damage to mental health from being stuck in long-term unemployment was "unacceptably high", as 32% reported having suicidal thoughts compared to 25% in education, employment or training.
"The government cut the Future Jobs Fund and the Education Maintenance Allowance that worked. These are our kids and all the government can do is announce a triple lock on pensions. Thank God the Prince's Trust is on the case. Iain Duncan Smith is AWOL. Please somebody do something before it's too late," he added.