An MP is promising to wear a tiger-striped onesie – complete with tiger tail, ears, paws and claws– to vote in the House of Commons if enough people donate money to a hospice in his constituency.
Alec Shelbrooke, the Conservative MP for the West Yorkshire constituency of Elmet and Rothwell, is aiming to raise £5,000 for the Martin House Children's Hospice in Boston Spa.
If he hits the figure, Mr Shelbrooke says he will go through the division lobby of the House of Commons wearing the onesie.
Mr Shelbrooke wore the onesie on BBC2's Daily Politics to publicise his fund-raising effort.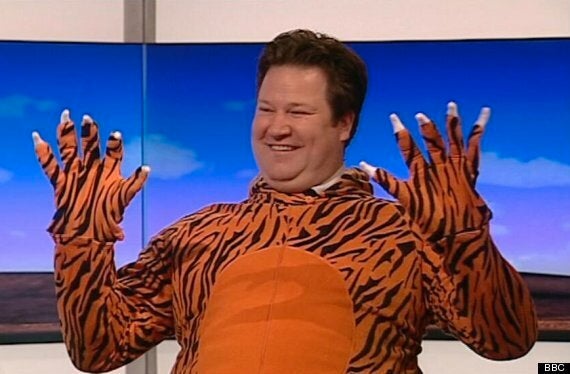 He told the programme he did not believe the orange-and-black costume would breach parliamentary rules on MPs' attire.
"You have to show respect for the chamber," said Mr Shelbrooke. "I'm not going to wear it in the chamber. I don't need to ask the Speaker because I'm not going in the chamber."
Explaining his plans on his fundraising website, the MP said: "The appeal and the hospice aim to raise money to provide care for children and young people with short life expectancies and provide support to their families.
"The hospice is very dear to my heart, and is in my constituency. The appeal asks if people would stage pyjama parties, or go to work in their pyjamas to raise money, and an idea formed.
"I am aiming to raise £5,000 for the Good Night's Sleep appeal and Martin House, and once this figure is raised I will walk through the Division Lobby at the Houses of Parliament in full view of the public, my peers, and the press wearing nothing but a onesie.
"Don't think I'll actually go through with it? Well, donate and find out!"
Mr Shelbrooke has so far raised just five donations totalling £80 via the justgiving website.