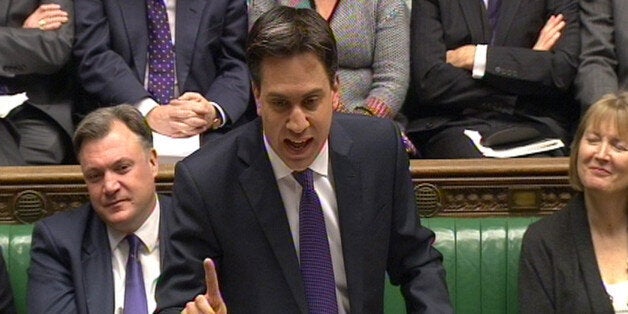 Here are the five things you need to know on Tuesday 14 January 2013...
Restoring the quality of life for middle class families is "the greatest challenge for our generation", writes Ed Miliband in today's Telegraph, which splashes on the Labour leader's pledge to introduce policies to " "rebuild our middle class".
"Among those policies will be a toughening of the Labour position on welfare to link benefits payments to employment history. He will ensure that people with a history of work qualify for higher benefits than those who have never worked... In his article, the Labour leader tries to dismiss his "Red Ed" image, insisting that his priority is for the middle class to grow and prosper. 'Our country cannot succeed and become collectively better off unless Britain has a strong and vibrant middle class,' he says. 'Indeed, the greatest challenge for our generation is how to tackle a crisis in living standards that has now become a crisis of confidence for middle–class families.' The article, which comes before a speech on the economy later this week, is Mr Miliband's first major political intervention of the year, and will help define his general election campaign next year."
This isn't, however, a new approach on the part of the Labour leadership - one of Miliband's closest advisers, Stewart Wood, wrote a piece for the Huffington Post UK in February 2013 entitled 'We Need To Talk About The Middle'.
Miliband, however, won't want to look at the front of the Guardian today. The headline? 'Economic boost hits Labour's poll ratings'. The paper reports:
"Ed Miliband's party drops two points on the month to stand at 35%, which is just three points ahead of David Cameron's Conservatives, who stand still on 32%. Labour's lead in the Guardian's respected 30-year polling series is thus squeezed to three percentage points, down from five last month and eight points in November."
The Guardian's ICM poll finds "optimism and pessimism remain finely balanced, but that a narrow majority of 52% of voters are now confident about their own financial position, and 'ability to keep up with the cost of living', the highest score on this question since October 2010, a few months after the coalition was formed".
3) CORPORATIONS 1, GOVERNMENTS 0
"Britain's freedom to tackle climate change, protect consumers or guarantee a publicly run NHS could be jeopardised by a trade deal being negotiated between Europe and the US, MPs and pressure groups have warned. Under a draft plan supported by the European Commission, multinational firms would be given wide-ranging powers to sue EU governments that adopt public policies deemed to 'discriminate' against free trade. Campaigners warn that similar trade deals elsewhere in the world have resulted in countries being sued for adopting policies in the public good - such as anti-smoking measures - because they were deemed to penalise foreign investors... Zac Goldsmith, the Tory MP, told The Independent: 'It is hard to see how this won't seriously jeopardise the sovereignty of the UK Government and its legal system. Disputes between companies and legislators should always be dealt with by British courts.'"
BECAUSE YOU'VE READ THIS FAR...
Watch this video of the funniest bits from the Golden Globes on Sunday night, including Tina Fey's opening monologue.
"Egyptians have begun voting amid tight security in a two-day referendum on a new constitution, which could pave the way for fresh elections.
"The new charter aims to replace the constitution passed under Islamist President Mohammed Morsi months before he was ousted by the army.
"The military wants a strong 'Yes' vote to endorse Mr Morsi's removal.
"His Muslim Brotherhood, now designated a terrorist group, is boycotting the vote and there are fears of violence."
The BBC also reports that people spotted putting up 'No' posters have been arrested. How US Secretary of State John Kerry can say that Egypt's military is "restoring democracy" is simply beyond me.
"Portraits of politicians including Iain Duncan Smith, Diane Abbott and Ken Clarke have cost the taxpayer £250,000, it has been revealed.
"The cost of the paintings, which are hung on he Houses of Parliament, came to light following a Freedom of Information request by the Evening Standard.
"The newspaper reports that the portrait of Abbott cost £11,750, one of Duncan Smith cost £10,000 and one of Clarke cost £8,000."
From the Guardian/ICM poll:
That would give Labour a majority of 20.
From the Sun/YouGov poll:
That would give Labour a majority of 58.
@YvetteCooperMP Lords vote tomorrow [Wednesday] on Lab amendment 86D to stop perpetrators of domestic violence owning guns. Why is Govt still opposing it?
@chhcalling Psychologists say the left half of the brain is responsible 4 both kleptomania and numeracy. So now we know it's the taking part that counts
@bernardjenkin So wonderful to hear @anne_atkins talking about the importance of tea in the morning I sustaining marriage on @BBCr4today
Janan Ganesh, writing in the FT, says: "Cameron's EU referendum gamble has failed."
Polly Toynbee, writing in the Guardian, says: "Housing squalor and exploitation are back. But where is Labour's outrage?"
John Rentoul, writing in the Independent, says: "A veto over EU laws? This can only be a Mandelsonian plot."
Got something you want to share? Please send any stories/tips/quotes/pix/plugs/gossip to Mehdi Hasan (mehdi.hasan@huffingtonpost.com) or Ned Simons (ned.simons@huffingtonpost.com). You can also follow us on Twitter: @mehdirhasan, @nedsimons and @huffpostukpol
Popular in the Community