Pope Francis has launched a blistering condemnation of abortion describing it as a "horrific" symptom of a "throwaway culture" at his State of the World address.
Since his election in March he has been reluctant to speak against the practice with as much venom as his predecessors.
Monday's speech is likely to have been to appease more conservative members of the Vatican over an issue on which he was unlikely to ever change the Church's stance.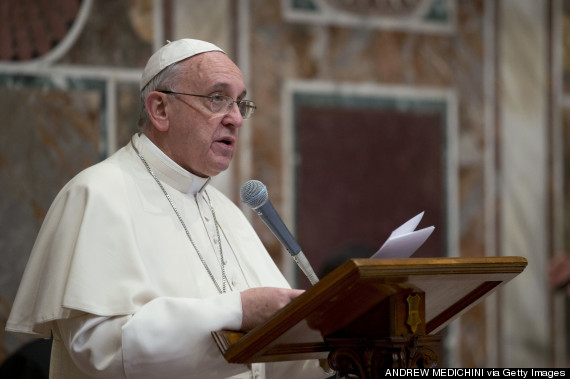 Pope Francis adresses the crowd at his State of the World speech
He said: "It is horrific even to think that there are children, victims of abortion, who will never see the light of day.
"Unfortunately, what is thrown away is not only food and dispensable objects, but often human beings themselves, who are discarded as unnecessary."
In September the Pope said the Church needed to shake off an "obsession" with teachings on abortion, contraception and homosexuality.
His more liberal approach to these controversial topics had wrong-footed many Catholics in countries where views are far more polarised such as the US.
Last year, Bishop Thomas J Tobin of Providence, Rhode Island, voiced the concerns of many Catholics when he voiced disappointment the Pope had not tackled "the evil of abortion" more directly.
But amongst poorer Catholics such as those in South America, he has won legions of fans for his austere approach to the role, shunning the lavish surroundings of the official papal apartment for a more modest home.
He has also been much more hands-on with the public, taking numerous opportunities to meet followers, particularly those with illnesses.