Coronation Street star William Roache wrote a letter to a 14-year-old girl weeks after he indecently assaulted her and asked her to reply "when you start school again", a jury has heard.
Giving evidence, the complainant said Roache forced her to perform a sex act on him in the gents' toilets at Granada Studios in Manchester in the summer of 1965.
She had visited the studio with a friend to take part in a children's talent show, Preston Crown Court heard.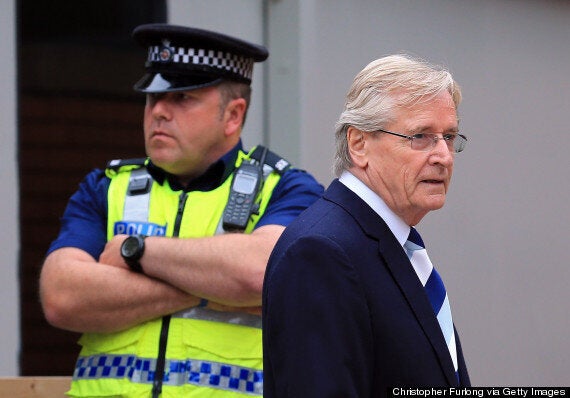 Coronation Street star William Roache is on trial at Preston Crown Court
Speaking from the witness box, she recalled how she met Roache - who plays Ken Barlow in the ITV soap - in a dressing room before he later pulled her into the nearby toilets.
Weeks later she said she received a letter and signed photograph from the actor.
It read: "Dear (the alleged victim), thank you for your marvellous letter and the nice things you said in it.
"I am enclosing a photo which I hope you like.
"I am away for three weeks now but I would like a letter from you waiting for me when I get back.
"Write to me when you start school again and tell me more.
The photo was signed "Love to (the alleged victim)!
"William Roache (Ken Barlow)."
Prosecutor Anne Whyte asked her: "How did that make you feel?"
The woman replied: "I suppose I was flattered at the attention.
"I didn't understand some of it.
"I had not written a letter. I left a note as well as my address.
"The 'tell me more' didn't make sense. I don't know what it referred to."
The Crown say Roache "took full advantage of his stardom" to sexually abuse five young girls.
His fame and popularity were said to have silenced his "star-struck" victims for decades until the Jimmy Savile and Stuart Hall scandals emerged.
Roache, 81, of Wilmslow, Cheshire, denies five historic counts of indecent assault and two historic counts of rape involving the complainants who were aged 16 and under. The offences are said to have occurred between 1965 and 1971.