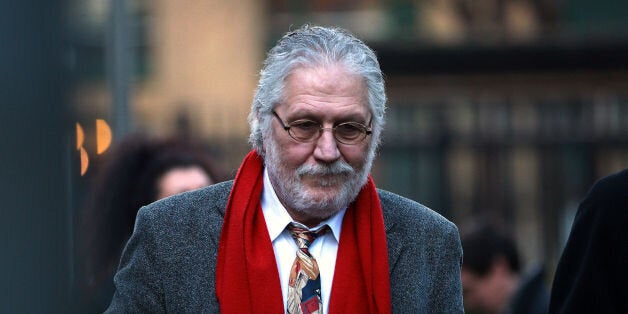 A radio announcer has told a court she was in a "panic" as DJ Dave Lee Travis grabbed her breasts when she was broadcasting live on BBC Radio 4.
The woman, who cannot be named, was introducing Woman's Hour on the radio station in the early 1980s when the alleged incident happened, Southwark Crown Court heard.
Travis, 68, is charged with 13 counts of indecent assault dating back to between 1976 and 2003, and one count of sexual assault in 2008.
The former Radio One DJ, from Buckinghamshire, is accused of assaulting 11 women, one of whom was 15 at the time of the alleged crime. He denies all the charges.
Giving evidence behind a curtain, the woman told the court that Travis walked into the studio she was in as she was about to go on air.
The woman, who was 26 at the time, said Travis sat down behind her as she read out the time, when she felt the DJ standing behind her.
"His hands came round under my arm pits and he put one hand on each breast," she said. "He started to move my breasts up and down."
The woman told the court Travis held her breasts throughout her announcement which lasted about 10 seconds.
Asked by prosecutor Miranda Moore QC how she felt at the time, she replied: "Well I imagine there was a feeling of sort of panic.
"Radio 4 is a very serious network. I was making a serious announcement. I was just frightened I was going to mess up the announcement."
The woman said she would "not have been very lady-like" had she not been on air.
"I'm sure I would have screamed at him to get off me, probably with a few choice words" she said.
The alleged victim said Travis sat down after the incident "as if nothing had happened".
Dressed in a dark green blazer, white shirt and tie, Travis listened to the proceedings in the dock today with the aid of headphones.
Jurors were yesterday told the former BBC presenter was an "opportunist" who assaulted "vulnerable" young women.
Travis, whose real name is David Patrick Griffin, allegedly assaulted women at various locations including a Showaddywaddy concert when the alleged victim, who was 15, feared she was going to be raped.
In one incident, the court heard he "touched the bum" of a 19-year-old woman during a recording of Top of the Pops.
In another incident, Travis allegedly assaulted a woman working in the pantomime Aladdin in which he was appearing in Crawley, West Sussex, between November 1990 and January 1991, the court heard.