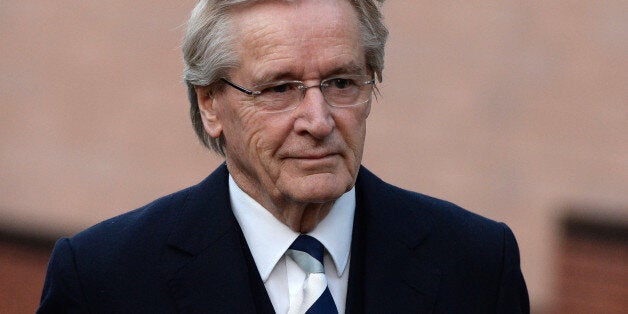 A woman allegedly raped by Coronation Street star William Roache kept quiet for decades because she blamed herself, a court has heard.
She described how she was a "gullible" teenager - "a kid" - who was raped on two different occasions in 1967 at the actor's then-home in Lancashire.
A jury at Preston Crown Court has been told the woman finally came forward to police last year in the wake of a number of celebrity sex scandals.
In her police interview played to the court, the woman told a female officer: "All these years I have never brought it to anyone's attention. I chose not to say anything.
"I thought I was to blame, especially the second time.
"I was gullible ... I was a kid. I would never have repeated it to anyone."
But by last year she said "it has started to bother me because there might be other people that this has happened to".
She continued: "It started where I can't sleep, it is there at the back of my mind all the time."
The woman detailed how in the first alleged assault Roache - who knew her, she said - had sex with her with "no warning" in the bedroom of his bungalow.
The court has heard the woman was aged 15 at the time and was a virgin.
"I was a bit shocked," she said. "There was no warning to anything that would have happened.
"There was nothing to suggest that anything improper was going to happen. It happened before I realised it. I didn't know what to do. I was panicking.
"I didn't have to fight him. He was not aggressive in any way."
Wearing a T-shirt, skirt and socks, she said Roache did not undress her.
He put on a condom and pulled her knickers aside, she said.
"He was big, I was little," she said.
"I remember thinking I just want to get out of here. It just seemed to go on a long time. I just didn't know what to make of it."
She added: "I thought it was my fault and I didn't know why because nothing had taken place before that suggested that anything was going to happen."
The woman said she was raped again later in the year when he again invited her into his home.
"Before I knew it I had been grabbed again," she said.
She said she should not have gone in his home the second time.
The complainant said she did not see him again until years later when she was a young mother.
He walked past at her at a local carnival and said: "Oh hello, I know you, don't I?"
She said that was the last time she had seen the actor.
Roache, 81, of Wilmslow, Cheshire - who has played Ken Barlow in the ITV soap for more than 50 years - denies the rapes.
He has also pleaded not guilty to five counts of indecent assault involving four other complainants aged 16 and under.
The alleged offences are said to have occurred between 1965 and 1971.