The tomb and remains of a previously unknown pharaoh thought to have reigned more than 3,600 years ago have been unearthed in Egypt.
The King's name "Senebkay" was found inscribed on the wall of the burial chamber uncovered at South Abydos in Sohag province, around 500km south of Cairo, AFP reveals.
Ali Asfar, head of antiquities for the Egyptian government told NBC News on Wednesday: "This was the first time in history to discover the king."
Scroll down for more pictures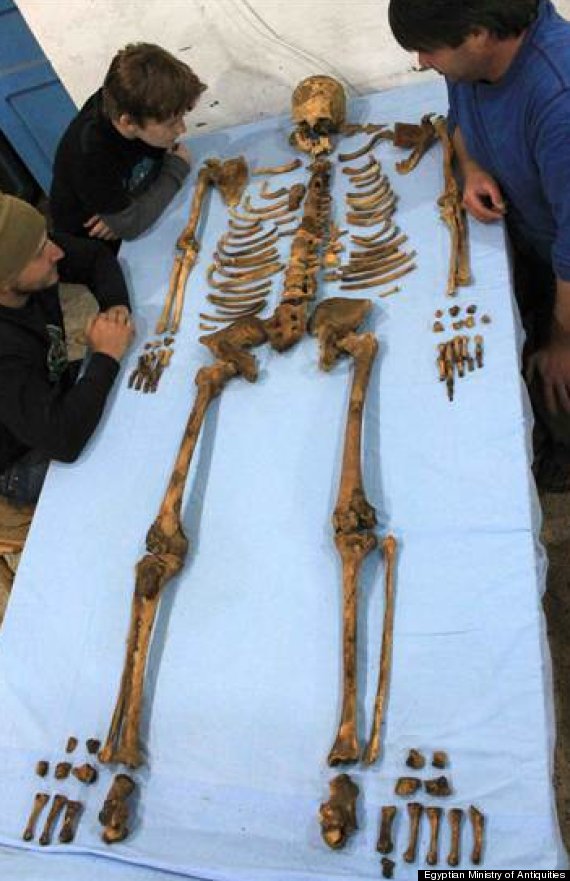 King Senebkay's skeleton. He was mummified but his body was dismembered by tomb robbers
Captions accompanying photographs of King Senebkay's skeleton say he "was originally mummified, but his body was pulled apart by ancient tomb robbers."
It adds: "No funerary furniture was found in the tomb, confirming it had been robbed in the ancient pharaonic ages."
And the find could lead to more royal discoveries – even that of a whole dynasty - says Josef Wegner, the leading archaeologist with the University of Pennsylvania team at the site.
He told the NBC News: "It looks likely that all of the 16 kings are all buried there… we now have the tomb for first or second king of this dynasty. There should be a whole series of others."
The discovery was made as the group excavated the adjacent tomb of an earlier pharaoh, King Sobekhotep I.
Sobekhotep is believed to have been the founder of the 13th Pharaonic dynasty, 3,800 years ago.