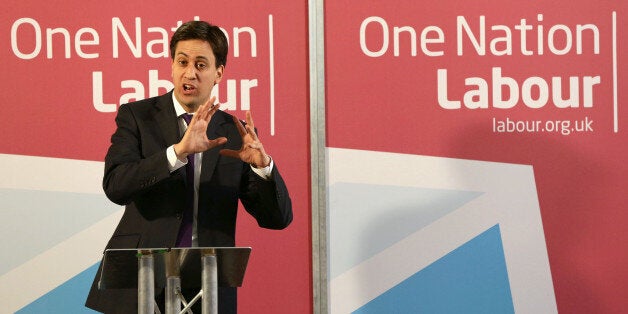 Ed Miliband placed a bet on voters wanting radical change rather than a "steady as she goes" approach to the economy, as he unveiled plans to restrict the size of banks.
In what was billed by aides as one of his most important speeches yet, setting his out his "long term vision" for the economy, Miliband unveiled his plans to force the big five high street giants to give up branches and open up the market to new competitors.
Speaking in central London on Friday morning, Miliband said that under a Labour government the Competition and Markets Authority would be instructed to report within six months on how to create a least two new "sizeable and competitive banks" to challenge the existing high street lenders.
Labour are seeking to capitalise on the popularity of its policy of imposing a freeze on energy prices, by tapping into public and small business frustration with the banking sector.
Asked whether he risked scaring voters off with promises of upheaval, Miliband insisted "people want the kind of big change I am talking about".
"It is about recognising that big things need to change in this country. The worst thing we can do is go back to business as usual just before the crash," he said.
"In this country, over decades we have seen greater and greater concentration in our banking system. I am determined that the next Labour government turns that tide. I want to send a message to all the small and medium sized businesses of our country: under the next Labour government, instead of you serving the banks, the banks will serve you once again."
The message is a direct challenge to the coalition who are betting the public will reward them for a steady, not radical, recovery in the economy. Nick Clegg said earlier this month: "After a long period of drama and upheaval in the economy, how about a year of stability rather than surprises? More steady as she goes, than spectacular highs and lows."
Earlier, shadow business secretary Chuka Umunna acknowledged that the move would affect the share price of the two predominantly state-owned banks - Royal Bank of Scotland and Lloyds.
"I'm not denying in the short term that you may see a hit on the share price of these banks - it's probably happening as we speak now. But the reason we are doing this is so that we can grow our small businesses," he said.
He also signalled Labour's irritation with Bank of England Governor Mark Carney who earlier this week told MPs that capping the banks' market would not lead to a "substantial improvement" in competition.
"I think it is not healthy for us to involve governors of the Bank of England in big political debates," he told BBC News.
Business Secretary Vince Cable said the government had already taken action to increase competition among high street lenders, with new challenger banks entering the system, supported by the government's business bank.
He said that imposing "arbitrary ceilings" on the market share of banks was not a "sensible way" of increasing competition.
"We do need competition in the banking sector but he is in danger of re-inventing the wheel," he told BBC News. "The proposals Ed Miliband put forward this morning don't really add to anything we have already got. "