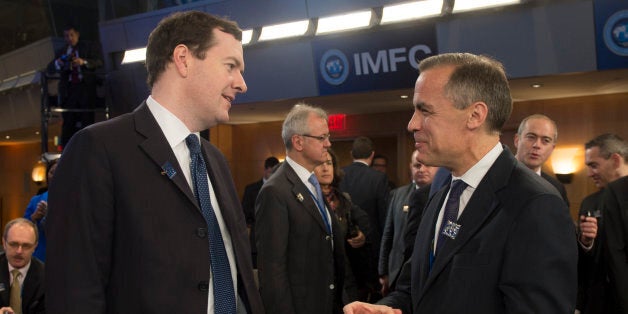 Bank of England governor Mark Carney has been warned against intervening in "big political debates" by Labour's shadow business secretary Chuka Umunna.
Umunna told BBC Radio 4's Today programme that Carney's predecessor Mervyn King "made it clear to me that it's not a good thing for governors of the Bank of England to be involved in political matters."
"I think it's not healthy for us to involve governors of the Bank of England in big political debates and I don't want to drag him into that."
"He was asked a leading question by a Conservative MP who put it to him whether crude market caps are a good thing or not, we're not proposing a crude market cap."
Umunna's warning was echoed by fellow Labour MPs. Katy Clark, member of the Commons business committee, told the Huffington Post UK: " If Mark Carney is seen as being too party political it will not be seen as acceptable and begin over time to undermine his credibility."
The chancellor announced Mark Carney would take over from Mervyn King at the Bank of England in November 2012, praising him as the "best man" for the job
Michael Meacher, who was a minister for six years in the last Labour government, branded Carney a "neoliberal ideologue" who was chosen by Osborne "because he shares in spades the free market deregulatory approach to which Osborne is such a fixed adherent."
He told HuffPostUK: "This partisan and deeply prejudicial appointment to the Bank of England should be removed as soon as those who believe in the real British public interest have the opportunity to act."
Teresa Pearce, Labour member of the Treasury select committee, told HuffPostUK: "It is not surprising that a governor hand-picked by the chancellor, and rewarded with a £874,000 pay package, is not in favour of tackling exorbitant pay and bonuses in the banking sector."
"I am aware that some commentators say Dr Carney makes no attempt in private to disguise his contempt for my Party's economic credentials. However, I cannot comment on what Dr Carney does or does not say in private, as I am afraid that neither I nor my constituents, many of whom are on the national minimum wage and live in overcrowded and poor housing, move in the same social circles as Dr Carney with his £5,000 a week housing allowance."
However, Professor Danny Blanchflower, a former member of the Bank's Monetary Policy Committee during Mervyn King's governorship, told HuffPostUK that he agreed with Mann's criticism.
"The governor of the Bank of England has got to remain apolitical and has got to be able to advise both the chancellor and the shadow chancellor.
"Carney has compromised his position as Bank of England governor, Osborne has got his hand up his backside!
"It'll be very hard for him to give advice to the Labour Party. When asked about their proposals, he should have shut his gob."
However, another Labour Treasury select committee member, MP Andy Love, said given Carney's importance, "we'll continue to question whether he's siding with one side or the other [when he makes public statements]".
Tory MP David Ruffley, also on the Treasury select committee, dismissed accusations that Carney was biased in favour of the chancellor as "conspiracy theory".
"I absolutely reject it. His reputation depends on making the right judgements. It's all rubbish."
Speaking to Channel 4 in November, Carney rejected any suggestion he wasn't his "own man".
He said: "The great advantage of the structure that's been put in place for the Bank of England is the Governor is absolutely independent and, in fact, the other members of the Monetary Policy Committee, which set interest rates, and the Financial Policy Committee, which sets financial policy, we're all independent."