While we're not ones for restrictive diets or crazy detoxes here at HuffPost UK Lifestyle, we will admit to carrying a little extra holiday weight since our chocolate-laden sofa-based Christmas.
So when offered a tasty sarnie that weighs in at just 250 calories and promises to complement our healthy lifestyle in 2014 and beyond, we jumped at the chance.
As soon as the Thinwich arrives - see what they did there? - it's clear why it weighs in at 250 calories. It's hardly the doorstop sarnie we're used to, it's small enough to fit in the palm of our hand.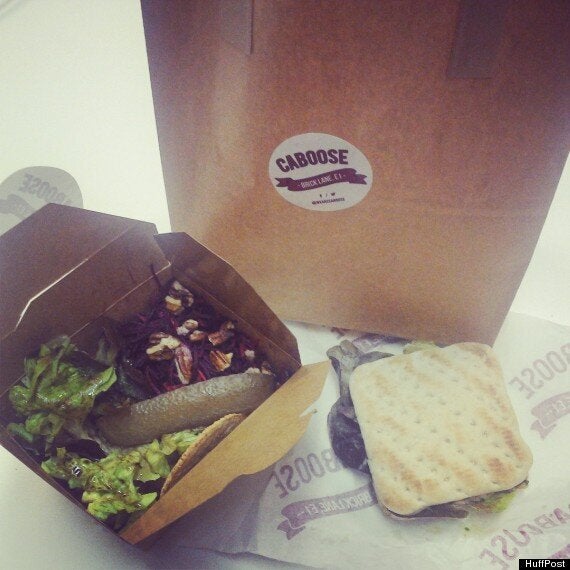 A mere slice of our usual lunch offering - a plateful of healthy, hearty, homemade salad - we were worried that the low-calorie would fail to touch the sides.
Thankfully a side salad from Caboose was on hand (and later when hunger struck a handful of nuts), but naturally more food equals more calories.
The Thinwich was delicious. The base, made from two 100-calorie Warburtons Sandwich Thins, held the tasty filling: chicken (four-hour fruitwood slow smoked, if you want details), salsa verde (capers, anchovy, parsley, basil, mint, English mustard, red wine vinegar and olive oil) and a topping of charred celeriac, red onions and oak lettuce.
Verdict: The Thinwich has less calories than your average packaged sarnie (unless you're eating egg and cress but it failed to fill us up for very long. If you want a low-calorie lunch, perhaps ordering a sandwich isn't the way to go.
Or, if weight loss is your goal, try exercise instead of restricting your food intake...
Nutritional information for the Thinwich recipe is as follows:
KCAL 250 (12% RDA)

Sugars 3.9 (4% RDA)

Fat 9.4 (13% RDA)

Saturates 1.9 (9% RDA)

Salt 1.8 (30% RDA)
The Thinwich will be available on the Caboose menu throughout January and further details of the recipe and Thins can be found at Warbutons