The Muslim director of a think-tank credited with Tommy Robinson's departure from the EDL has received "credible" death threats after tweeting a cartoon of the Prophet Muhammed.
British Muslim campaigners have now told HuffPost UK they fear a split in the community over Maajid Nawaz's Quilliam Foundation's endorsement of the ex-EDL leader's genuine 'conversion' from anti-Islam activity.
The row has spiralled since last week when Nawaz tweeted a cartoon from 'Jesus and Mo' series, with the caption: "This is not offensive & I'm sure God is greater than to feel threatened by it."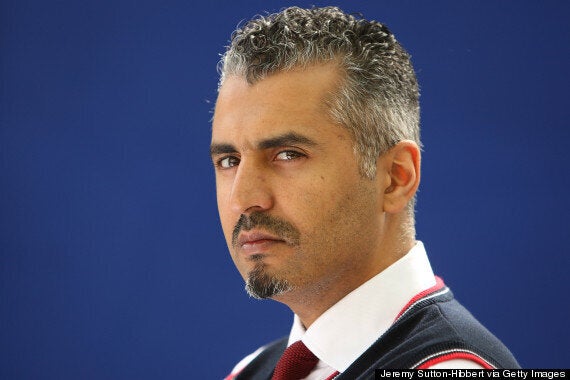 Maajid Nawaz has had death threats on Twitter
Nawaz, a former member of the radical Hizb ut-Tahrir who became an anti-extremism activist, is the Liberal Democrat parliamentary candidate for Hampstead and Kilburn.
The cartoon was the same as the one worn on t-shirts by the LSE Atheism society, who were told by the University to remove the t-shirts or cover them up when they hosted a stall at the university Freshers' Fair.
Nawaz was challenged over the tweet by Mohammed Shafiq of the Ramadhan Foundation, by Muslim TV commentator Mo Ansar and by Bradford Respect MP George Galloway.
Shafiq said he intended to complain to the Liberal Democrat central office about the "offensive tweet".
But Nawaz said that Shafiq's tweet had been dangerous, and risked stirring up potentially deadly hatred.
Tell MAMA, which monitors anti-Muslim hatred, said they had had two "credible death threats, originating from Pakistan.
Hundreds and hundreds of tweets have been sent during the furore, including many from Robinson himself, in support of Nawaz.
Fiyaz Mughal, the organisation's founder, told HuffPost UK: "The divisiveness which exists at the moment can do no good. We do have people with very strong feelings on either side, and there is a potential clash here."
Ansar told HuffPost UK he backed the petition to remove Nawaz. "I personally do not find that particular cartoon offensive, but there are others in the series which show Jesus and the Prophet Mohammed in bed together, drinking beer together. This is something many Muslims will find offensive.
"The petition quotes the Lib Dem code of conduct, that 'you must treat others with respect and must not bully, harass or intimidate or bring the Party into disrepute'
"I believe Maajid's behaviour on Twitter was contrary to the code, and we should expect very high standards of behaviour from politicians. I think that, especially with the Lord Rennard investigation, the Lib Dems should be very careful about breaches of the code."
Nawaz told HuffPost UK he would not comment on the cartoon or petition.
Related