The ex-wife of disgraced former energy secretary Chris Huhne blamed his decision to leave her for a bisexual lover on his previous gay relationships with men, a jury has heard.
Barrister and part-time judge Constance Briscoe told Southwark Crown Court that Vicky Pryce wanted to reveal to the press, after her husband left her for Carina Trimingham, that he infected her with a sexually transmitted disease.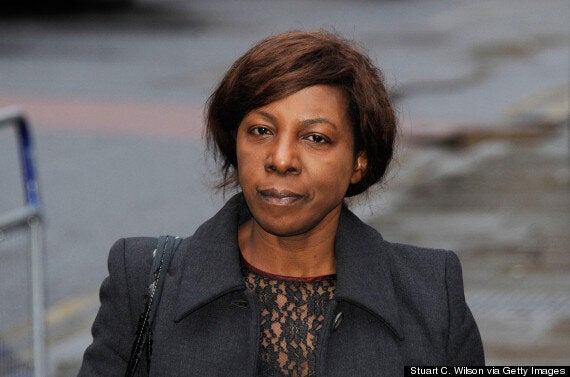 Constance Briscoe is accused of lying to the police
She also claimed Mr Huhne was left with a black eye after Ms Pryce "dragged him through a window" following the collapse of their marriage in 2010.
Briscoe, 56, is on trial accused of lying to police about how she helped Ms Pryce reveal that she took speeding points for Mr Huhne.
Answering questions from Patrick Gibbs QC, for the defence, Briscoe said: "She wanted to discuss the fact that Chris had relations with men before they got married, and also wanted to discuss how he had infected her with an STD when he was a European MP, and when she confronted him at the time he said he got it from clean sheets.
"She felt extremely bitter about the marriage break-up and she felt that the reason why the marriage had broken up was because of Chris and, can I say, his sexuality.
"She believed that the reason why the marriage had broken down was because Chris, her husband, had been engaging in that activity again and that was the real reason for the break-up of her marriage.
"She was cross with Miss Trimingham but she was more furious with Chris because he had conducted a campaign on family values at the time he had that affair with Miss Trimingham.
"Her attitude was that Chris had run off with a man."
Briscoe said that on one occasion when Mr Huhne visited the family home after the split, Ms Pryce attacked him.
"She dragged him through a window and punched him a few times on the eye.
Chris Huhne and his ex-wife Vicky Pryce were both jailed in March 2013 for perverting the course of justice
"Vicky had given him a few punches and it had landed well and he had to cover it up because he was on the telly all the time."
The court heard that Mr Huhne was attacked again as he tried to leave and was left with two black eyes.
Briscoe said she first met the couple after moving in next door to them in Clapham, south London, and that their children played together.
She advised Ms Pryce to go to the press because it would be "good therapy" after her break-up, she told the court.
Ms Pryce asked her to contact a journalist who was working at the Telegraph at the time to discuss the break-up, the court heard.
"At that point she thought that Chris had bugged the house and had hacked into her emails and was monitoring her communications so she wanted me to contact him on her behalf," she said.
But the exclusive story evaporated after Mr Huhne contacted Ms Pryce asking her for a reconciliation, the court heard.
Comments are closed for legal reasons