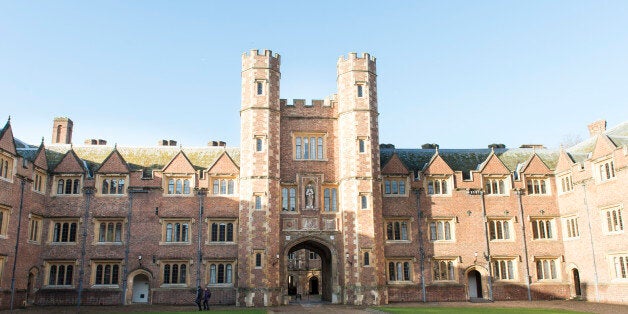 English students are at risk of being "significantly disadvantaged" by exam reforms which will see AS-levels made into a separate qualification, Cambridge University has warned.
The proposal will leave sixth-formers in England unable to show evidence of their recent academic achievements in university applications, unlike their peers in the rest of the UK, according to the prestigious institution.
Governments in both Wales and Northern Ireland have pledged to keep the AS-level, while in Scotland, students sit their Highers before applying for degree courses, it said.
The plan, put forward by Education Secretary Michael Gove, will see AS-levels decoupled from A-levels to become a qualification in their own right. It is part of a wider shake-up of A-levels which will see sixth-formers no longer sitting exams after one year, and instead tested at the end of their two-year course.
Under the current system, students usually sit AS-levels after one year of study (Year 12), with the results counting towards their final A-level grade.
In its response to exam regulator Ofqual's consultation on A-level reform, Cambridge said that it believed that concerns about the rigour of A-levels could be addressed without losing the AS-level exam in its current format.
"We are extremely concerned that students in England will be disadvantaged in light of the decision in Wales and Northern Ireland to retain Year 12 assessment," it said.
Schools and colleges in England should be given the option to decide whether their pupils take linear qualifications - in which all exams are taken at the end of the course, or modular ones - in which exams can be taken at different points in the course.
In a statement, the university said that the proposals "risk significantly disadvantaging students at English universities by removing their ability to present evidence of recent academic achievement when applying to universities".
Some universities currently take into account a student's AS-level grades as a predictor of their final A-level results when making offers.
In a joint release Cambridge, along with the Association of Colleges and universities group Guild HE said that they were urging Ofqual to retain public exams at the end of Year 12 in all subjects to help give young people the best chance of getting into the right university for them.
A spokesman for the organisations said: "At present, AS acts as a vital progress check that helps students make appropriate choices for higher education in terms of both subject and institution, and helps universities make objective judgments about potential. Such judgments are at the heart of fair admissions."
He added: "If de-coupling of AS and A-level is to go ahead as proposed, we believe all students should be able to sit four
fully-funded AS-levels at the end of Year 12.
"If the Government does not wish these exams to feed into final A-level results, so be it, so long as there is funding sufficient to ensure that all students can sit exams in this way."
The decision to decouple AS-levels has proved controversial since it was first announced, with universities, headteachers and MPs raising concerns.
The UK's top universities warned against the change last year, suggesting that the exams are valued by institutions and can encourage bright teenagers from poorer backgrounds to continue their studies.
Cambridge University has previously spoken out over its opposition to the plan, saying that for admission to their courses, AS-levels are the best predictor of how well a student will perform in every subject except maths.
It has suggested that the move risks damaging a decade's worth of work to encourage more disadvantaged teenagers to study at the institution.
Ministers have argued that universities learn little more from knowing teenagers' AS-level results in addition to GCSE grades and that universities use a range of information to determine who to accept, including exam results, predicted grades, personal statements and references.
Government analysis shows that GCSEs are a slightly better predictor of a student's chance of gaining a good degree than AS-levels, Schools Minister David Laws has said.
In May last year, Labour said it had concerns that the AS-level proposal would damage attempts to encourage poorer students to go to university and that if it were to win the general election in 2015, it would not go ahead with the move.
A Department for Education spokeswoman said: "Returning A-levels to single exams will make sure students gain a deeper understanding of a subject and put an end to the test treadmill in sixth forms - something many teachers and universities complain about.
"Many universities already use a wide range of data for admissions purposes, including GCSE grades and predicted A-level grades. Recent research has shown that GCSE results are actually a better predictor than AS results alone. Our reforms will add further rigour to these qualifications, making them even more reliable as a predictor for admissions."
Joe Vinson, vice president for further education at the National Union of Students, said: "Further education should offer students the opportunity to explore what they want in life and who they want to be. This is why decoupling the A-level and AS-level is a bad idea - it strips young people of the ability to take their time in making important life decisions.
"Changing the AS and A-level structure like this could see higher numbers of students dropping off courses because the flexibility to change doesn't exist. It will also be harder for universities to make admission offers to students without the AS-level grades to go from."