The Moto X is Motorola's mid-range 'pure' Google handset, available in the UK from February for £380 SIM-free.
Android 4.4 Kitkat
4.7-inch 720p Screen
2200 mAh battery
10-megapixel camera
1080p HD video recording
Qualcomm Snapdragon S4 Pro
2GB Ram, 16/32 GB storage
"Talk to Moto X and it learns your voice. With Google Now, it tells you what you need to know – even when you're not touching it. With two flicks of your wrist, Moto X becomes your camera and captures the shots you used to miss. All of this coupled with its all-day battery means that Moto X is ready when you are." It's a bit of an oddity that the first big smartphone to be released in the UK in 2014 has already been out in the US for about six months. But whatever the reason for the delay - whether it's dealing with UK accents for its voice control tech, or just marketing focus - Motorola has now decided to bring its sort-of-flagship, sort-of-midrange smartphone to the UK. So how does it stack up compared to its Android competitors, especially the similarly specced, priced and vanilla Android Nexus 5?
Visually the phone makes a decent first impression, and while this is clearly not hardware from the top-tier of design and build quality, it's still pleasant to look at and nice to hold. The back of the phone is plastic, and notably curved with a subtle rounded logo impression which helps it sit nicely in the hand. It's fairly light, solid and well-built, though it's not going to dazzle anyone either. In both white and black, it's a straightforwardly dull, neat phone.
In terms of specs, the most obvious downside is the screen. The Moto X is smaller and lower resolution than the Nexus 5, displaying just 720P at 312 pixels per inch. The dip in quality is not tremendously bothersome unless the Moto X is side-by-side with a better display. Indeed, the Amoled panel is quite strong in general, with good contrast levels. But once it is put alongside a better screen, there's no comparison. Similarly its processor is lower spec compared to the Nexus 5, which boasts a quad-core Snapdragon 800 versus the X's Snapdragon S4 dual-core, plus a natural language co-processor. In practice though both perform well, and we didn't experience much difference between the phones on a day-to-day basis.
Battery life was similar, in our unscientific tests, but the Moto X edged it managing a whole day of use without issuing a low-power alert, unlike the Nexus.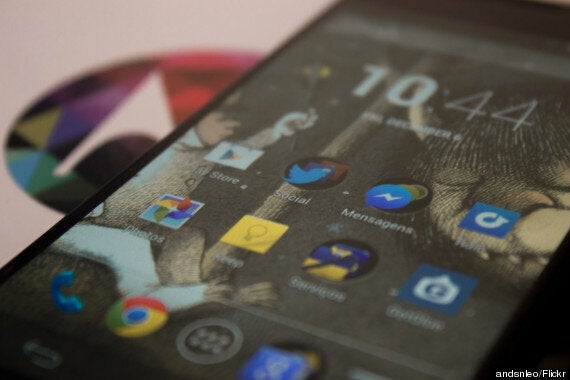 The final big feature battle is in the camera, and here it's a marginal win for Motorola. The Moto X has a 10-megapixels camera, which is a boost versus the the Nexus 5's 8-megapixel sensor, and also boasts an impressively quick 'twist to open' gesture which brings up the camera by just rotating the phone like a motorbike accelerator. Quality was similar to the Nexus in general, though. We noticed sharper images with the Moto X, but both run similar software and it's hard to be too enthusiastic for one over the other.
In software terms, the Moto X does have some pretty neat ideas that the Nexus 5, and many other top-tier Android phones lack. The best is its addition of 'touchless controls', by which you can operate many important functions of the phone without pressing a single button. Just say 'Ok Google Now' and using its language co-processor the phone will start listening for commands, whether it's to navigate to a new area, tell you the weather or make a call. This is partly made possible by hardware, and not even the Nexus 5 has it. It's a nice addition, and while you might not use it much in practice, it's an alluring step towards a truly useful digital assistant.
The Moto X also has intelligent notifications, which use its 'Active Display' to quietly highlight information you need, without waking the whole screen. It's discreet and well designed, and lets you choose when to respond and when to ignore a pulsing notification, depending on where you are. Using the Motorola Connect app you can see and respond to all your notifications using a desktop version of Google Chrome, while the Migrate app lets you port over your SMS messages, contacts and pictures to the new device very easily.
All that combines to a phone with a likeable combination of decent looks, good components and some unique software features. Unfortunately it's also a little hard to recommend when compared on price to its competition. You can get a Nexus 5 for £80 less than the Moto X - and you can get a Samsung Galaxy S4 for not that much more. Without any truly inspiring design options as seen in the US, it's quite hard to recommend in a crowded marketplace. On the other hand, it's also unlikely to disappoint if you do want a basic, pure Android phone with a slightly better camera than the Nexus.
Related