British workers are still seeing their wages eaten into by soaring inflation as the latest figures showed salaries increased by 0.9% over the last year, while inflation rose by 2%, over double the amount.
The latest news from the Office for National Statistics confirmed that the economic pain is still going to affect workers' pay packets, as this graphs shows. This means that since May 2010, wages have fallen by £1,600 as inflation has continued to bite.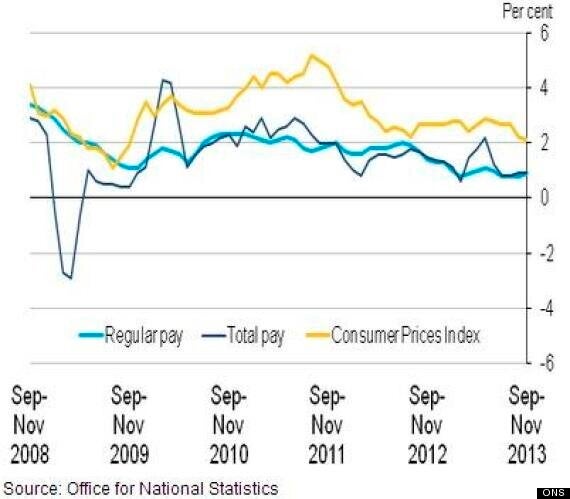 However, the rest of the news was more positive as the ONS revealed the unemployment rate from September to November 2013 has fallen from 7.4% to 7.1%, much more than the 7.3% expected by analysts.
This will pile further pressure on Bank of England Mark Carney's flagship policy of forward guidance, under which Bank officials would consider raising interest rates from their historic 0.5% low if the unemployment rate hits 7.0%.
The other employment figures showed a positive picture which Prime Minister David Cameron is expected to trumpet at Prime Minister's Questions, like the fact that the number of people employed rose to 30.15 million, up by 450,000 from a year earlier.
Chancellor George Osborne welcomed the news on Twitter, saying: "Biggest rise in employment in UK's history. Our plan is working. Each new job means another family more secure."