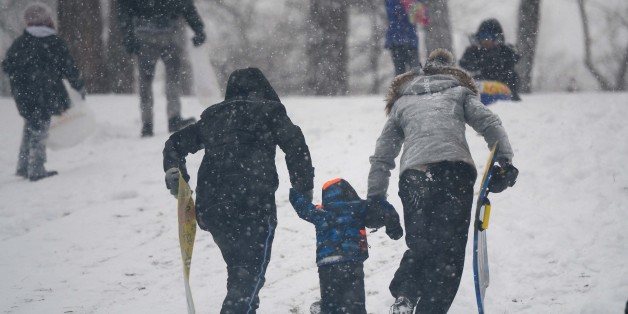 Anadolu Agency via Getty Images
Rich New York residents of the Upper East Side have accused New York's left-wing Mayor of leaving them stranded in the snow, and refusing the plough their streets because of their voting preferences.
New York City Mayor Bill de Blasio was accused on Twitter of punishing those who had not voted Democrat, and there were calls to reinstate his predecessor Michael Bloomberg.
No change since last night De Blasio doesnt care about disabled wheelchair bound kids. #bringbackbloomberg pic.twitter.com/VYxASwIjYB

— Mrs. Sasha Lloyd (@sashanyc2010) January 22, 2014
Soho ain't seen a plow yet! #bringbackbloomberg

— Lo Bosworth (@LoBosworth) January 22, 2014
this is what happens when hippies are in charge, @BilldeBlasio doing an environmental impact report b4 plowing #bringbackbloomberg @MyFoxNY

— ANGRY COLOMBIAN (@angrycolombian) January 22, 2014
"I can't believe de Blasio could do this. He is putting everyone in danger," 70-year-old Barbara Tamerin told the New York Post, saying she had to use snowshoes and ski poles to navigate the street. "What is he thinking? I can barely get around — and I'm on snowshoes!"
On the other side of town, resident's from de Blasio's former district of Brooklyn were much happier.
51st Street in Brooklyn is plowed just fine. #deblasiosnewyork pic.twitter.com/l0tpkD8aCP

— Colin Campbell (@BKcolin) January 22, 2014
"Meanwhile, in de Blasio's Park Slope neighborhood in Brooklyn, the mayor's block was plowed by mid-afternoon." http://t.co/7cwLHXSQh2

— Jacob Kornbluh (@jacobkornbluh) January 22, 2014
The city was inches deep in snow on Wednesday morning after a second snow storm.
De Blasio, who stood on an anti-poverty and anti-inequality platform, has repeatedly called for tax increases for the country's richest. He beat Bloomberg on a record margin, saying New York had become a "Tale Of Two Cities".
A city spokesman denied Manhattan had been left in the cold. John Doherty, the commissioner of the Sanitation Department said: "One of the problems was that the salt spreader in that area, the GPS system was not working. Traffic also created a big problem for us in that area.
"I think any of the reporters, or anybody who was in that area this afternoon were reporting, nothing is moving in the area."
At a morning news conference, de Blasio insisted "I don't think anyone was caught off-guard [by the weather]."