A team of US university students are embarking on a brave campaign to become the fourth team in history to land a spaceship on the moon.
The Pennsylvania State students are competing for the Google Lunar X Prize - which promises $20m to the first team that succeeds by the end of 2015 in landing a robotic vehicle on the Moon. The successful team's vehicle will have to travel 500 metres over the lunar surface and transmit a high definition video back to Earth.
The students are part of the only university-led team in the competition, and are up against teams from Chile, Indonesia, Japan and India. Calling themselves the 'Penn State Lunar Lion Team', they have already raised around $2.5m using a crowdfunding campaign hosted on Rockethub. It is estimated a further $58m will be needed to meet the requirements of the prize.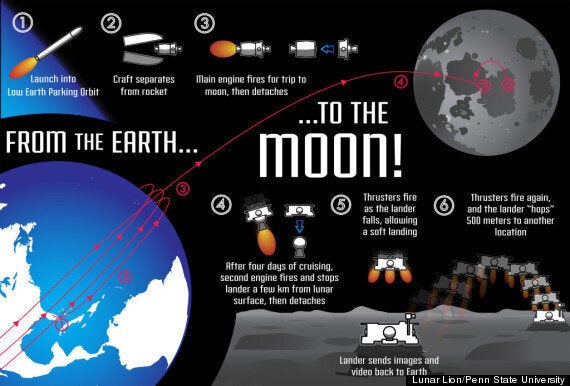 How the project will work after launching on the vehicle
Michael Paul, Penn State's director of space system initiatives, told Space News: "We want this to be a mission done by the university but one that allows people around the world to participate and to be a part of this project."
In December of 2015, the Lunar Lion lander will take off onboard a commercial spacecraft. After traveling through space for five days, the spacecraft will land on the surface of the Moon, and send back high-res images and videos to Penn State's mission control center.
The team are full of enthusiasm for the project. In a live Q&A Youtube session, one member of the Lunar team is asked if it is possible there might one day be a Penn State student who walks on the moon, to which she replies: "You are the future engineers and you can do anything...it is absolutely possible!"
In fact the team believes they have the capacity to develop their project even further. After this initial lunar touchdown, the team will launch the Lunar Lion lander and give all the supporters of the project the opportunity to occupy a part of space. The lander will be inscribed with the names of these supporters and stand post on the Moon for an estimated 10 million years.
Paul told FoxNews.com."The last person on the moon left the moon before I was born."
He wants to change that equation: "I want kids to say, 'I want to get into space now. I didn't know I could be a part of something this exciting and this important.'"
Popular in the Community