 As the economic recovery has taken hold, Labour have been keen to stress the cost of living crisis is still biting, leaving Britons effectively £1,600 worse off a year since David Cameron took over in May 2010.
At Prime Minister's Questions on Wednesday, Cameron offered the defence that it left out the positive effect of tax cuts on workers' pay packets, adding that it was unsurprising for wages to suffer after the "longest and deepest recession in living memory". So who is right?
According to the government's Office for National Statistics, workers' pay packets have actually gone up by £1,352 a year in cash terms since May 2010. In their survey of weekly earnings, workers too home £449 a week (£23,348) in May 2010, with it rising to £475 a week (£24,700) in November 2013, mirroring the wider economic recovery.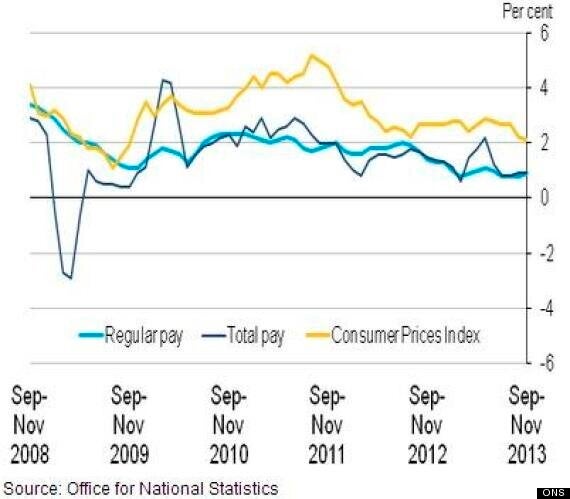 David Phillips wrote in the IFS' post-Autumn Statement report last year: "This is based on comparing average weekly earnings in September 2013 with those in May 2010 and adjusting for [Retail Price Index] RPI inflation."
Labour's decision to use RPI is useful for their political message as it has been generally much higher than CPI since May 2010, so would result in a worse result once you factor inflation in. The main difference between the two measures is CPI does not include housing costs like mortgages and rents, so could show a better result.
If Labour calculated the effect on real wages using CPI rather than RPI, they'd get just £1,300 rather than £1,600.
The Institute for Fiscal Studies conclude about Labour's £1,600 warning that it isn't wrong, but will be mitigated by tax cuts and benefit changes: "While an incomplete measure, it is not giving a misleading impression of changes in average living standards".
Ministers also point to the effect of tax cuts to cushion the blow to living standards, but they have so far avoided putting a number on how much all this helps in total, so some experts are still sceptical.
Jacob Mohun, economist at the New Economics Foundation, told HuffPostUK: "Uprating the personal tax allowance does not in itself deal with the problem of falling real wages. It simply deflects attention away from the fact that people's wages are being eaten away by inflation.
"A higher personal tax allowance does mitigate the effects of low real wages to some extent, by raising the income threshold at which people start paying tax. But this higher threshold is for everyone: married or single, rich or poor.
"And as a result the rich, who tend to be in dual-earner families, do much better from the personal tax allowance than poor families, who tend to have a single earner or may not have one, let alone two members who earn above the threshold anyway. "
This means Ed Miliband isn't wrong to warn that workers have been left £1,600 out of pocket since May 2010, but the trouble for David Cameron is he can't - or won't - say how much in total they've done to correct that.
Related