Nigel Harman debuted his Simon Cowell impersonation for upcoming Harry Hill musical 'I Can't Sing' to the nation at the National Television Awards, on Thursday, to mixed reviews.
Nigel's fabulously camp take on the 'X Factor' boss and music mogul tells the story of how Simon went from bullied school boy to millionaire with very high-waisted trousers. And includes a cameo from a Sintta look-a-like dressed in palm tree leaves.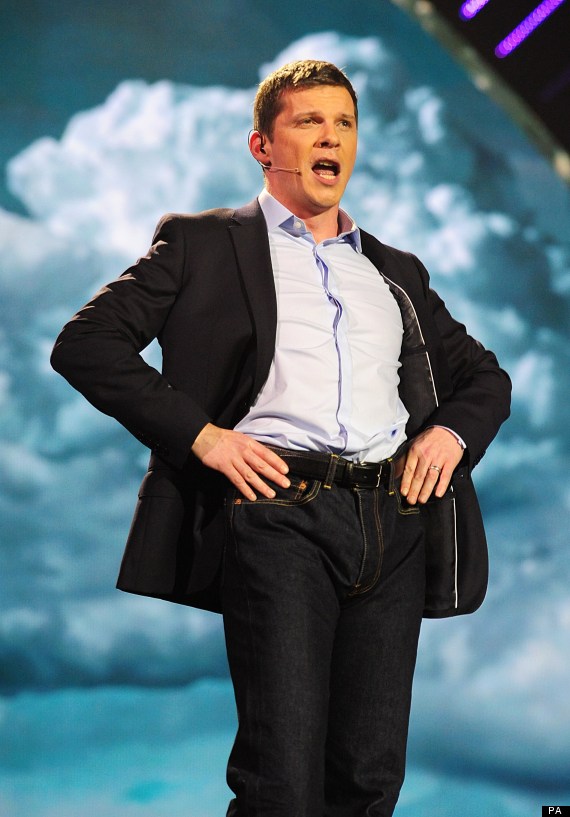 Nigel Harman as Simon Cowell
Nigel doesn't actually play Simon in the musical, which hits the West End this Spring - so that might explain why his outfit wasn't a plain white t-shirt and faded jeans - but his character is based on the businessman.
Simon tweeted:
I am fabulous. And so was Nigel. Very very funny.

— Simon Cowell (@SimonCowell) January 22, 2014
The former 'EastEnders' star, who recently appeared in 'Downton Abbey', might have had Simon in stitches - but it left some viewers reaching for the remote.
One viewer tweeted:
This thing with Nigel Harman being Simon Cowell is a terrible, terrible mistake, isn't it? #NTAs

— Ben (@islandniles) January 22, 2014
And another said:
I was doing so well on a 2 day of the 5:2, but Nigel Harman and that song have just driven me to drink... #ntas

— Jo Hemmings (@TVpsychologist) January 22, 2014
What did you think of the song? Watch it above and vote below...
LIKE US ON FACEBOOK | FOLLOW US ON TWITTER