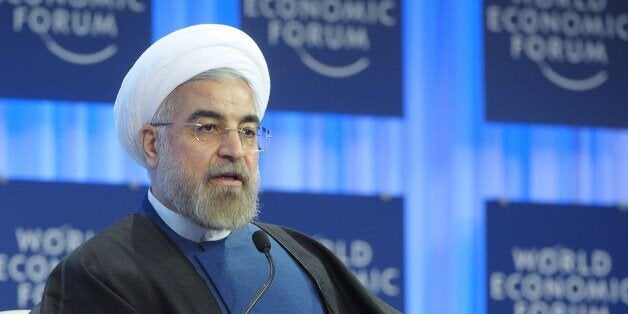 Iran's president Hassan Rouhani has hit out at his Western critics "under the influence of propaganda", asking them to take a history lesson to see why Iran has no desire to develop a nuclear weapon.
Speaking to a panel of top global oil executives at the World Economic Forum in Davos, Rouhani set out his case against sanctions on Iran, and hinted that right-wing critics in the US should remember which of their two countries has a recent history of invading others.
"Iran, in pursuing nuclear energy program, has never sought nor seeks anything other than peaceful applications of this technology," he said.
"Accordingly, those who are under the influence of propaganda and still believe that Iran is seeking to implement its power through creating fear and threats, or develop nuclear weapons, to them I strongly and clearly declare that nuclear weapons and resorting to force have no place in our security strategy, and that Iran has no motivation to move in that direction.
"A look at history also clearly shows that Iran has in the past centuries never launched any invasions or aggression and only engaged in active defense against threats and direct and indirect invasions," he said.
He made it clear he would not allow any negotiation on permission for Iran to pursue "peaceful nuclear technology", and said he believed his former enemies had finally got the message.
"After ten years of insisting and stressing on an illogical and incorrect position, finally, our counterparts reached the conclusion that the Iranian nation will under no condition give up its right to access peaceful nuclear technology, and that the continuation of pessimism and the imposition and intensifying of sanctions will have no results except direct and indirect costs for all parties," Rouhani said.
"Creating obstacles in the way of the development of nations will only add to animosities and cynicism, and ultimately fail.
"Indeed, any type of limitation and economic sanction will instead of aiding understanding and common security merely exacerbate divergence."
Tehran is keen for Western oil companies to invest in its ageing oilfields, and develop new ones, once sanctions are eased.
"Iran's economy has the potential to be among world's top 10 in next three decades," Rouhani said."The reality is that among developing countries, and in the Middle East, Iran enjoys one of the highest Human Development Index rates."
Rouhani said he believed Iran-US relations had entered a "new phase", calling it a "major development since Iran's Islamic Revolution".
With Europe too, Rouhan said, he hope to "normalise" relations after the Geneva Agreement on nuclear development last year.
Popular in the Community