Police officers have been involved in city-centre fracas with a group of youths after a man was Tasered in a local court building. More than 50 officers were deployed to the scene of Birmingham Crown Court following a volatile court hearing on Monday after trouble flared between two rival groups.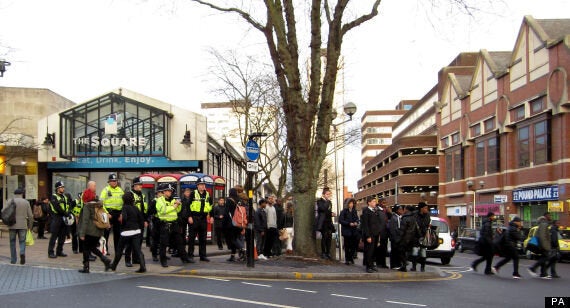 Police at the end of Bull Street, in the city centre
According to witnesses, two groups of young men congregating in Newton Street near to the court starting hurling abuse at each other at around 3.30pm, which led to a tense stand-off in the city centre while children were leaving school to make their way home.
The case being heard related to a local rapper, who was allegedly murder by an 18-year-old from the city. Uniformed police were in the building in anticipation of trouble. According to West Midlands Police, one man was Tasered at the scene. He then ran off, however the incident sparked chaos with police forced to separate people in the courtroom into two groups, with member's of the murdered man's family intervening to calm the crowd.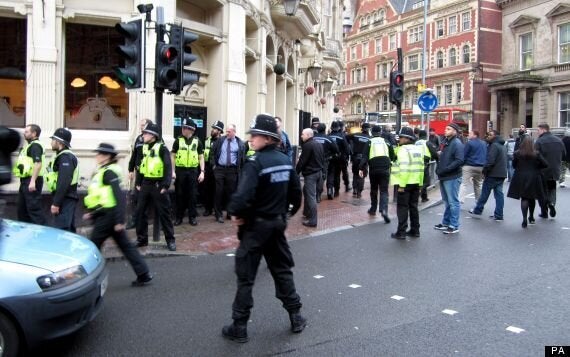 Police act quickly to move in and break apart two rival groups
More from the Press Association:
Initially the court was locked down with everyone prevented from leaving or entering by police, however a short while after the doors were re-opened, the incident sparked off again outside when two small rival groups of what appeared to be youths started confronting each other.
A dozen police cars and riot vans were rushed to the area, which is only a few hundred yards from the city centre's main Steelhouse Lane police station, and the groups were again separated and moved off. However, one hardcore group of about six young men continued to confront uniformed police, who responded in driving them back by quickly forming a well-organised line across the street, halting all traffic, and then advancing down the road towards the men.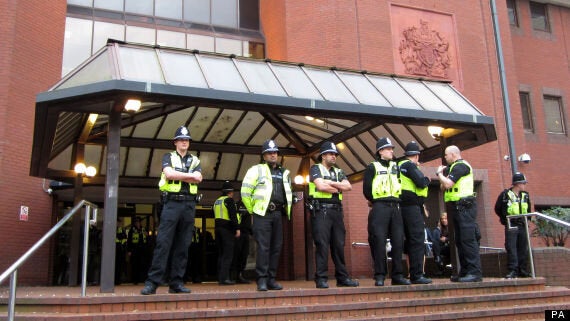 Police on the steps of the Birmingham Crown Court
The stand-off ended in Bull Street when the men eventually left the immediate area. Earlier, in court, Armani Deniro Mitchell, of The Green, Northfield, Birmingham entered a plea of not guilty to murdering Joshua Ribera, of Moseley, known by fans of his music as Depzman.
Ribera, also 18, was fatally stabbed at a fund-raiser being held in Selly Oak in September, last year, in honour of a friend who had been murdered a year previously. Mitchell was remanded in custody for a trial back at the Birmingham Crown Court which is due to start on March 3.
A West Midlands Police spokesman, commenting on the disorder outside the court room, said: "Police have responded to a disorder at Birmingham Crown Court this afternoon.
"Officers, who were already based at the court, called for backup from colleagues at around 3:30pm. A Taser was discharged at a man who then ran away from the scene. Surrounding streets were cordoned off in the interest of public safety. Officers remain in attendance in and around the court as inquiries continue."