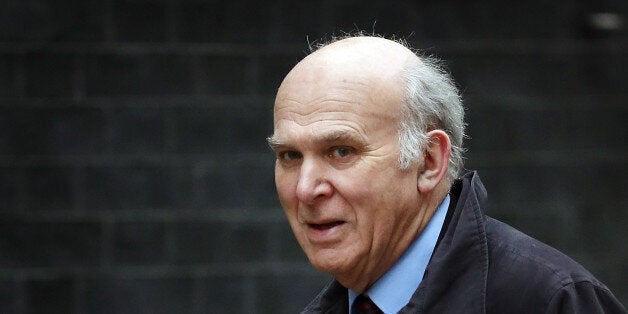 Here are the five things you need to know on Tuesday 28 January 2014...
1) VINCE DECLARES WAR ON GIDEON
The business secretary won't want to make eye contact with the chancellor at this week's cabinet meeting - from the Daily Mail:
"Britain is expected to be confirmed as the strongest major economy in Europe today as official figures show growth roaring back at the fastest pace since 2007... But Business Secretary Vince Cable attempted to rain on the parade, warning the recovery could yet prove 'short-lived'. The Liberal Democrat Business Secretary said the 'shape of the recovery' has 'not been all we might have hoped for', warning that exports are 'too weak' and businesses are failing to invest. He insisted rising house prices should not be seen as a sign of prosperity and suggested Mr Osborne was wrong to say £30billion in further spending cuts are necessary after next year's general election. Mr Cable's gloomy assessment will irritate the Conservatives, who suspect him of angling for a senior job in a potential Liberal Democrat-Labour coalition government."
It's difficult to disagree with that view, especially when you read some of the Cable quotes in the Guardian's report, e.g.:
"Undoubtedly some on the Conservative side of the coalition see fiscal consolidation as a cover for an ideologically driven 'small state' agenda... Some of the proposals to extend deep spending cuts on departments and welfare far into the next parliament have more than a whiff of ideology: slashing for its own sake."
The Independent, meanwhile, splashes on news that "the Liberal Democrats are planning a double election tax raid on the rich, with commitments to introduce new levies on property and pension pots in their 2015 manifesto." Differentiation, anyone?
Incidentally,on the subject of the this morning's GDP figures, which are set to suggest annual growth has hit 1.9%, it is worth bearing in mind that though this is a welcome and massive increase on the measly 0.3% growth we had in 2012, it is well below 2007's 3.4% and below the pre-crash annual average rate of 2.5%. Plus, the UK economy is still smaller than it was before the financial crisis in 2008.
Both Eds - Miliband and Balls - will be disappointed, to say the least, with this morning's ComRes poll for the Independent:
"Labour's lead over the Conservatives has dropped to just a point amid signs the Tories are making headway in the crucial political battle over living standards, according to an opinion poll for The Independent. Some 39 per cent of people agreed with the statement that their family's finances would be better off with David Cameron and George Osborne than with Ed Miliband and Ed Balls. Only 28 per cent agreed that they would be better off with the Labour leader and shadow Chancellor than the Prime Minister and Chancellor... The survey puts Labour on 33 per cent (down four points on last month) and the Tories on 32 per cent (unchanged), giving Labour its smallest lead in a ComRes poll for The Independent since December 2011, when the two parties were level on 38 per cent."
This bit, in particular, will rile the shadow chancellor and his supporters:
"Only 29 per cent believe Mr Balls would make a better Chancellor than Mr Osborne, while 47 per cent disagree with this statement. Almost one in four people (23 per cent) who voted Labour in 2010 do not think Mr Balls would do a better job than Mr Osborne. Three in 10 people (30 per cent) say they would be more likely to vote Labour if Mr Balls were replaced as shadow Chancellor, while 50 per cent would not."
Ouch. Still, there's some good news from the YouGov poll in the Times, which shows 61% of people in favour of Labour's new pledge to bring back the 50p top rate of tax. Just 26% of the public are opposed. 40% support the move on moral grounds, even if it doesn't raise much revenue. (On a related note, the Institute for Fiscal Studies does indeed say the 50p tax would only raise "a very small amount of money", around £100m. Still, as Tesco might say, every little helps...)
3) GOODBYE TO UKIP'S 'WALTER MITTYS'?
Most Ukip councillors and MEPs haven't exactly done their party any favours in terms of positive PR, have they? Last week, Ukip councillor David Silvester blamed the Christmas floods on gay marriage; yesterday, it emerged that former Ukip MEP Godfrey Bloom taunted a disabled student at a recent Oxford Union debate on immigration. The Times, on its front page, reports that Ukip leader Nigel Farage - no stranger to the odd, dodgy comment himself - isn't happy:
"Nigel Farage has lashed out at the 'Walter Mittys' damaging UKIP as he warned the party's candidates that they must show more discipline before a series of crucial tests at the ballot box. In an interview with The Times, the UKIP leader admitted that the party had "got it wrong" in the past and allowed in some people who had proved to be 'disappointments'. 'It's very natural that a newish party will attract all sorts of people," he said, admitting that it had not always succeeded in screening out 'Walter Mittys seeking a role in politics which, in the end, they will let down not just us but themselves with'."
BECAUSE YOU'VE READ THIS FAR...
Watch this video of two cats in mandarin orange hats. You know you want to.
4) OPEN UP YOUR PALACES, YOUR MAJESTY
MP Margaret Hodge, having taken on Amazon, Google and Starbucks, is now going after... the Queen! From the BBC:
"Buckingham Palace should be opened to more paying visitors when the Queen is not in residence to fund improvements to the royal estate, MPs have said. The influential Public Accounts Committee criticised the Royal Household for mismanaging its finances. Chairwoman Margaret Hodge said there was 'huge scope for savings' on the annual £31m of taxpayer funds given to the Queen to spend on official duties."
Hear, hear! The Daily Mail splashes on the story: "Rent Out Your Palaces, Ma'am."
5) IS HE HERE ILLEGALLY? REALLY?
Labour has consistently campaigned against illegal immigration, so what's this in the Sun?
"One of Ed Miliband's key aides is being paid by Labour without having a work permit. US expert Arnie Graf was invited to Britain to help mastermind Labour's 2015 election campaign. But under strict Home Office rules, he was only granted a business visa — which bars him from working here for a salary. Labour last night denied paying wages to Mr Graf, but admitted giving him money to 'reimburse him for lost earnings and expenses'. The admission sparked Tory calls for a full examination of Mr Graf's status to ensure he is not an illegal immigrant."
Oh dear. The Sun's report, nevertheless, does concede towards the end that individuals without work permits "can be paid some allowances for travel and subsistence".
"There are different ways of finishing the job. Not all require the pace and scale of cuts set out by the chancellor." - Vince Cable speaking at the Royal Economic Society last night.
From the Independent/ComRes poll:
This would give us a hung parliament, with Labour two seats short of a majority.
From the Sun/YouGov poll:
That would give Labour a majority of 18.
@Mike_Fabricant "How the hell can we be taken seriously as a future Gov't when we keep taking crap decisions on the economy?" a Shadow Cab member tells me.
@Ed_Miliband I also thank the people who had the courage to help those who needed it most, including many of my own family @HMD_UK @HolocaustUK #HMD2014
@chhcalling East Midlands Airport are designing a housing estate to accommodate aircrew based as the airport.
At the moment it's just a pilot scheme.
Polly Toynbee, writing in the Guardian, says: "Ed Balls's 50p tax rate won't harm business – but these kleptocrats will."
Rachel Sylvester, writing in the Times, says: "Dave and Ed need their lipstick and high heels."
Janan Ganesh, writing in the Financial Times, says Labour's "50p tax plan may poll well but when employers call it a job-killer, voters will listen".
Got something you want to share? Please send any stories/tips/quotes/pix/plugs/gossip to Mehdi Hasan (mehdi.hasan@huffingtonpost.com) or Ned Simons (ned.simons@huffingtonpost.com). You can also follow us on Twitter: @mehdirhasan, @nedsimons and @huffpostukpol
Popular in the Community