Coronation Street star Anne Kirkbride has told a jury that her on-screen husband William Roache was "always a perfect gentleman" around her.
Kirkbride, a stalwart of the ITV soap as Deirdre Barlow, was called as a character witness for the actor who is accused of a series of sex assaults.
Giving evidence from the witness box at Preston Crown Court, Kirkbride was asked what one word she would use to describe Roache.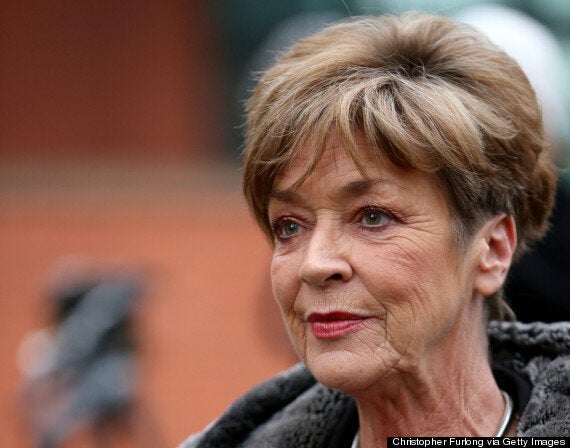 Coronation St actress Anne Kirkbride leaves Preston Crown Court after giving evidence
Roache, 81, is accused of using his fame and popularity to exploit "starstruck" youngsters for sex in the mid to late 1960s.
He denies two counts of rape and four counts of indecent assault involving five complainants aged 16 and under between 1965 and 1971.
Giving evidence from the witness box at Preston Crown Court, Kirkbride said she had never seen anything worrying about Roache's behaviour on set with young women from when she joined the show in about 1972.
The actress swore on the Bible and then chose to stand as she was asked a number of questions by defending barrister Louise Blackwell QC.
She confirmed she had known Roache "for quite some time", after she started in the soap aged 17 or 18.
Kirkbride was asked how she felt on joining Coronation Street, saying: "I was terrified for my first day. Very nervous going. It was a completely new situation. I didn't know anybody. I very quickly got to know people and it became easier."
Asked what she thought of Roache on meeting him, she said: "He was friendly. I remember the first time I spoke to him was outside a lift and we had a really nice chat and he offered me a cigarette.
"We shared a lot of the same interests in spiritual things. I just found him very easy to talk to.
"He (Roache) was always very helpful. Just very supportive and he made me feel comfortable and at ease in a place where I felt nervous."
Miss Blackwell asked: "Your contact with him in terms of a man and woman together, how did he behave?"
Ms Kirkbride said: "Impeccably. Perfectly. He was always a perfect gentleman."
The barrister asked: "When you first joined was there anything about his behaviour towards young women which was worrying?"
"Not at all," said the actress. "No, never."
Blackwell said: "Over the years have you have seen him in the company of young actor members?"
Kirkbride said: "He has obviously been in the company of younger cast members on a work basis. We have had several young actresses play the part of our daughter. He has never been anything other than helpful and supportive. There was never a hint or suggestion of anything else in all the years that I have known him."
She said her acting career had started in repertory theatre at the age of 16 and her original contract on Coronation Street was "for three lines".
But she added that she became a main character "quite quickly".
Prosecutor Anne Whyte QC asked Kirkbride just one question. She said: "In 1965 you would have been about nine."
"That's about right," said the actress.
After about five minutes of giving evidence, Kirkbride left the witness box. She briefly glanced towards the dock before she left the courtroom and smiled at Roache. He smiled back and waved at her.
Popular in the Community