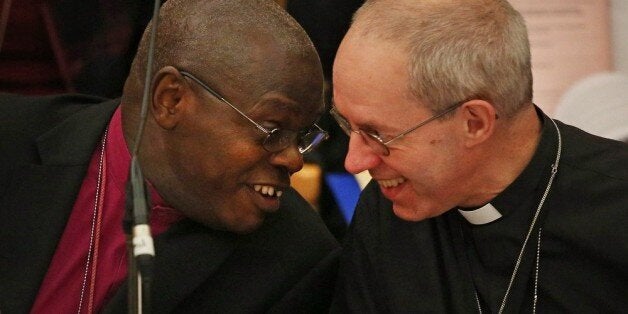 The Archbishops of Canterbury and York have written to the presidents of Nigeria and Uganda, in protest against the countries anti-gay laws.
Nigeria and Uganda have both passed legislation penalising homosexuals – sparking worldwide condemnation.
The powerful letter said homosexual people were loved and valued by God and should not be victimised or diminished.
It comes as the Archbishop of Canterbury, Justin Welby, begins a five-day trip to Africa.
The letter is also addressed to all primates (heads of national Churches) in the worldwide Anglican Communion.
Archbishops Justin Welby of Canterbury and John Sentamu of York said the letter was a result of "questions about the Church of England's attitude to new legislation in several countries that penalises people with same-sex attraction".
UN Secretary General Ban Ki-Moon, US Secretary of State John Kerry and UK Foreign Secretary William Hague all criticised President Jonathan's decision.
In Uganda - Archbishop Sentamu's native country - a bill allowing for greater punishments for gay people, and those who fail to turn them in to police, has been passed by parliament, but blocked - for now - by President Yoweri Museveni.
In their letter, the archbishops said they continue "unreservedly to be committed to the pastoral support and care of homosexual people.
"The victimisation or diminishment of human beings whose affections happen to be ordered towards people of the same sex is anathema to us.
"We assure homosexual people that they are children of God, loved and valued by Him and deserving the best we can give - pastoral care and friendship."
The full text of the joint letter is as follows:
"Dear Brothers and Sisters in Christ

In recent days, questions have been asked about the Church of England's attitude to new legislation in several countries that penalises people with same-sex attraction. In answer to these questions, we have recalled the common mind of the Primates of the Anglican Communion, as expressed in the Dromantine Communiqué of 2005.

The Communiqué said;

'….we wish to make it quite clear that in our discussion and assessment of moral appropriateness of specific human behaviours, we continue unreservedly to be committed to the pastoral support and care of homosexual people.

The victimisation or diminishment of human beings whose affections happen to be ordered towards people of the same sex is anathema to us. We assure homosexual people that they are children of God, loved and valued by Him and deserving the best we can give - pastoral care and friendship.'

We hope that the pastoral care and friendship that the Communiqué described is accepted and acted upon in the name of the Lord Jesus.

We call upon the leaders of churches in such places to demonstrate the love of Christ and the affirmation of which the Dromantine communiqué speaks."

Yours in Christ,

+Justin Cantuar +Sentamu Eboracensis
Popular in the Community