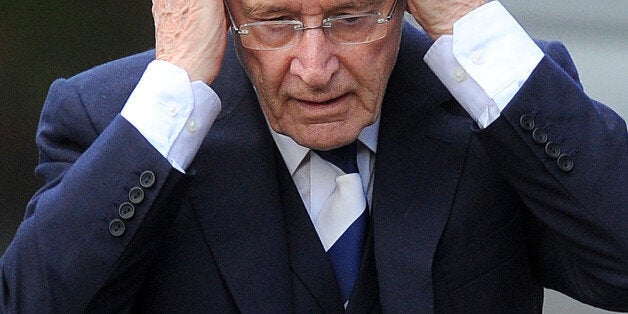 Coronation Street star William Roache was "sticking to his script" when lying that he did not sexually abuse five young girls, a jury heard today.
Roache, 81, who plays Ken Barlow in the ITV soap, is accused of using his fame and popularity to exploit "starstruck" youngsters nearly 50 years ago.
His trial has heard that the complainants, who did not know each other, apart from two sisters, claimed they had been assaulted while at Granada Studios in Manchester, in his car or at properties he owned.
Prosecutor Anne Whyte QC began her closing speech at Preston Crown Court to the jury of eight women and four men with the observation: "Well, members of the jury, someone is lying.
"Five complainants have made sexual allegations against William Roache.
"He is emphatic that it just did not happen.
"He either did it or he did not.
"He is lying or literally all of them are."
If he was telling the truth, he was the victim of a "huge, distorted and perverse witch-hunt" at the hands of five women who had come from all parts of the country to deliver their evidence in Preston.
She continued: "One important question that you are going to frankly have to ask yourselves is who has the most to gain in lying?
"Is it someone like (an alleged victim) or is it the enduringly popular Mr Roache?
"Who, of all the witnesses, is most used to rehearsing what he has to say and sticking to his script?
"Is it someone like (another alleged victim) or is it the actor William Roache, a man who has spent his entire life learning lines and delivering them for public consumption?"
Roache, from Wilmslow, Cheshire, denies two counts of rape and four counts of indecent assault involving the complainants aged 16 and under between the mid-1960s and early 1970s.
Miss Whyte said Roache's fame was "highly relevant" in the case.
"These offences, frankly, would not have happened if he was not famous," she said.
"He had become a national, good-looking heart-throb in the 1960s."
The complainants would not have found themselves in the proximity of the actor if instead he was "a street cleaner".
"So his work and his status gave rise, literally, to his exposure to these young women or girls," said Miss Whyte.
"His celebrity set the stage for what was to happen."
She said that by 1965 his "instant stardom" and resulting "adulation" had probably "massaged his sexual ego".
"He was probably already reaping the rewards of his sexual irresistibility," she told the jury.
"You are here to judge William Roache in the 1960s when he was a young man with looks, fame and appetite.
"That gave him the motivation and the opportunity to behave improperly."
She told the jury they may think that Roache would assume the complainants were "over-interested" in him, "impressionable" and "struck by his fame".
"You may think that it was not probably difficult to persuade himself that he was so attractive he was not really doing something so wrong... we say he was sexually presumptious."
She said his fame "put him out of reach" and, because of who he was, anyone whom he touched sexually without consent "would probably not have the guts to complain".
"Once he had got away with it once or twice, it would not discourage him from from trying again," she continued.
"He was probably reinforced with the belief that he would not be reported.
"We say that on occasion, when the opportunity arose, he took it with impunity."
She said times had changed now and this explained the "decades of silence" from the complainants.