A billionaire who offered a "marriage bounty" of £72m to the man who successfully wooed his lesbian daughter has withdrawn his proposition after she composed an open letter, pleading with him to accept her as she is.
Gigi Chao had already eloped with Sean Eav, her partner of nine years, when Cecil Chao made his first offer of £40m in 2012.
Recently, Cecil almost doubled the dowry and the pressure, prompting his daughter to pen him a respectful, heart felt note imploring him to let her be.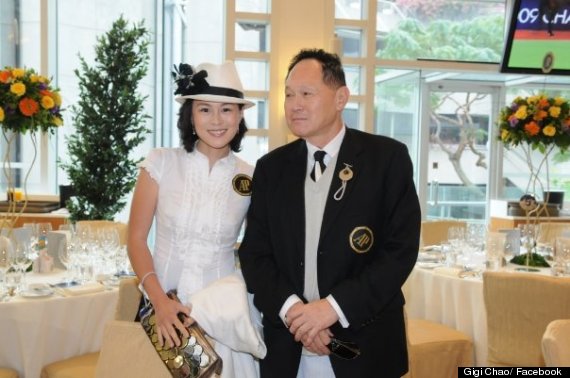 Daddy's little girl: Gigi and her father Cecil Chao
"I'm sorry to mislead you to think I was only in a lesbian relationship because there was a shortage of good, suitable men in Hong Kong," she wrote.
"There are plenty of good men, they are just not for me."
And it looks like Cecil is honouring his daughter's request … for now.
On Thursday he told CNN the money was now off the table ("for the time being"), with the 77-year-old somewhat reluctantly adding: "If Gigi's said that is what she chooses, then it's all over."
But it's not all roses. Gigi eloped with her longterm partner Sean Eav in 2012
While Cecil has withdrawn the "bounty" for his daughter's love, he appears to have stopped short of welcoming Sean into the family.
He added: "I can't say I'm happy with her choice. If this is her choice then it's for her.
"I have no intention of mixing my life with her life, but if that's what she wants, then I respect her choice."
On being asked what he meant about keeping the money in his pocket "for the time being", he replied: "Until she changes her mind." Cecil has spoken of his longing to have grandchildren
Presumably inspired by the cash, more than 20,000 suitors applied for Gigi's hand in marriage the first time round, according to TIME magazine.
Cecil, who earlier this week told Malaysian newspaper Nanyang Siang Pau he had "no desire to interfere with my daughter's life", has spoken longingly of his wish for grandchildren.
"I would not force her to marry a man. But obviously I would, from my point of view, prefer her to be married and to have grandchildren," he told the Financial Times in January 2013.
Same sex marriages are not recognised in Hong Kong, where homosexuality was decriminalised in 1991.