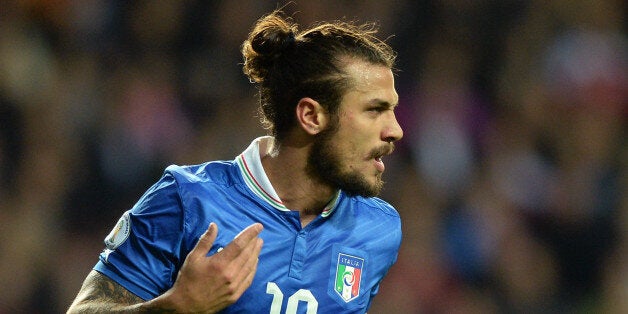 A Dickensian looking Dani Osvaldo arrived in Turin this morning to finalise his hasty loan move to Italian giants Juventus.
Having signed for Southampton last summer in a club-record £14.6 million deal, it's fair to say the former Roma forward hasn't lived up to their great expectations.
The transfer comes after he was suspended by the Saints for head-butting teammate Jose Fonte during a training ground altercation. Osvaldo's apparent attempt at an apology on Twitter – where he tweeted several pictures of Fonte during their 2-2 draw with Arsenal – has fallen on deaf ears.
It is perhaps a fitting end for a player who told Southampton fans to expect "a lot of rock and roll". It is also a costly one for Southampton, too, as their gamble in bringing in a player with a reputation for disruptive behaviour backfired.
Whilst at Roma, Osvaldo punched Tottenham winger Erik Lamela in the dressing room after a match because the Argentine had failed to pass him the ball. During a game against Sampdoria he grabbed the ball from penalty-taker – and Roma legend – Fancesco Totti, and proceeded to miss the crucial spot-kick. He also argued with Roma's caretaker manager, Aurelio Andreazzoli, for only using him as a late substitute for the Italian Cup Final, and then took to Twitter, saying: "You'd do more good if you admitted to being incompetent…Go celebrate with Lazio."
During his short time with the Saints his performances on the pitch have not lived up to his bravado off it. Frustratingly inconsistent, the few glimpses of genuine quality have been lost amid the long periods of seeming indifference, leaving him with a disappointing three goals in 14 appearances.
The St. Mary's faithful will not shed many tears at the departure of a player who produced a lot of noise but little music.