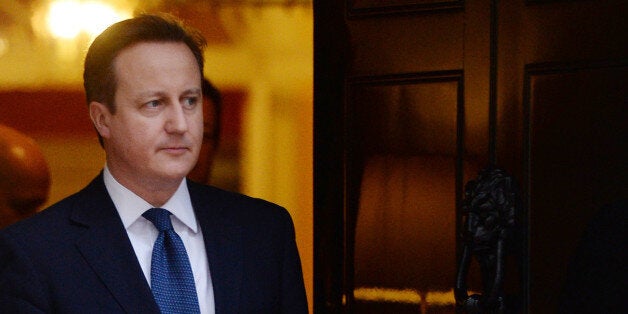 David Cameron's hope's of binding the next government to holding an in/out referendum on Britain's membership of the EU lay in tatters today, after the House of Lords killed off the legislation.
The prime minister will still be able to hold his promised referendum before 2017 if he wins the next election. However the Conservatives were hoping to be able to point to the EU Referendum Bill as evidence of their eurosceptic credentials ahead of this May's European elections.
The pledge, triggered in part out by the surge in support for Ukip, will also form a central plank of Cameron's pitch to voters at the 2015 general election.
On Thursday afternoon peers voted to cut short the debate on the Bill - effectively killing it off. The vote means the Bill does not have enough time to make it through parliament before the European elections on May 22.
The Conservative Party, keen to lay the blame for the Bill's defeat at the feet of Ed Miliband and Nick Clegg said Labour and the Lib Dems were "enemies of democracy".
The party's press office also tweeted following the vote: "Labour and the Lib Dems have made themselves clear....they don't trust the British people to have a say. Treating the public with contempt."
Tory MP James Wharton, who was in charge of piloting the Bill through parliament, said: "Today Labour and the Liberal Democrats showed their contempt for democracy and the British public. Under the bidding of Ed Miliband and Nick Clegg they have voted to block my EU Referendum Bill in the House of Lords.
"But we will not give up the fight here. We are going to try to re-introduce my bill in the next session of Parliament and, if necessary, rely on the provisions of the Parliament Act.
"It is crystal clear, voting Conservative is the only way to guarantee the EU Referendum that the British public deserve."
Following the vote, Cameron said: "As Labour and the Lib Dems have killed the Wharton Bill, the one way to guarantee a referendum is to vote Conservative at the General Election."
The Bill would not technically have bound the next government, which could be Labour, to holding a referendum, as it could repeal the law. However it would be politically difficult.
Cameron's hope of renegotiating Britain's membership of the EU before 2017 were also dealt a blow today by French president Francois Hollande during a joint press conference in Oxfordshire.
Hollande said treaty changes, which require the agreement of all 28 member states, were not an "urgent" requirement and that "eevising the treaty is not a priority for the time being."
Popular in the Community