"I've had situations where a girl is lying naked with me on my bed, still loudly proclaiming that we're not having sex… Other times, I just forcefully removed the hand, stuck my dick inside, and she welcomed it eagerly once I was in."
Welcome to the world of Vincent Vinturi, a self-styled "seduction artist" whose eBook LMR Expose: How To Overcome Her Last Minute Resistance To Sex, Turn 'No' Into 'Yes' And Get the Lay! was until this afternoon, available to buy on Amazon UK.
Vinturi's mission, according to his Twitter profile, is to "travel the world and help men and women connect in a more authentic way."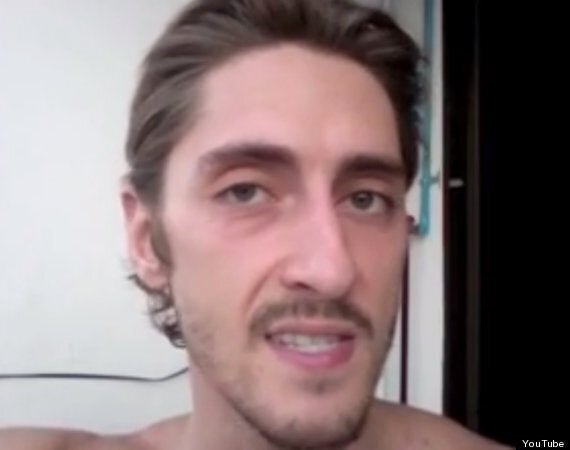 Vincent Vinturi is the author of How To Overcome Her Last Minute Resistance To Sex, Turn 'No' Into 'Yes' And Get the Lay!
And he's the author of two books to help that happen.
The first comment under the now-defunct Amazon page promoting the aforementioned book reads: "Disgusting rape apologism. The author should be ashamed of himself for writing this and Amazon should be ashamed to sell it."
HuffPost UK alerted Amazon to the page on Friday afternoon and it was duly taken down (too bad, Vincent). Our request for comment was simply answered with "This title is not available at Amazon.co.uk".
On Friday a wave of bile against Vinturi and his "work" was unleashed on Twitter.
Vinturi's "advice" also features on a site named The Return Of Kings (a blog for "heterosexual, masculine men").
In an essay entitled "When Her No Means Yes", Vinturi reveals women say "no" to him in one way or another "on a regular basis".
"Yet somehow, when it's all said and done, the woman is invariably happy that I don't listen to a single word of protest she uttered; that I barrelled through her resistance nonchalantly and drove the ball to the basket. Women RESPECT this sexual insistence even if they aren't acutely aware of it."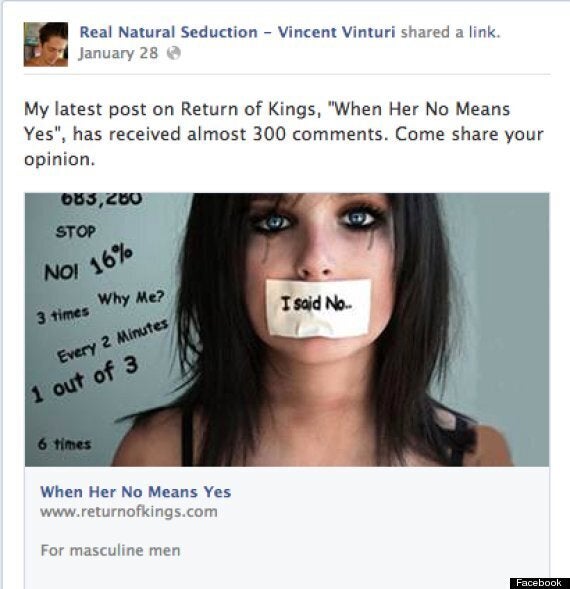 Vinturi proudly promotes his work on Facebook
Vinturi's definition of rape, by the way is: "In the modern context, rape is essentially the act of ultimate validation and a rape accusation is the ultimate act of attention whoring."
He then adds: "With rape laws the way they are in countries like the US and Canada, it's downright scary to be a man and act with natural disinhibition in the company of beautiful women in these countries. We're at a dangerous cultural crossroads, where a woman's need for validation is at an all time high, and the repercussions for accusing men of rape are non-existent. Do you see any potential for abuse with this cocktail?"
We've contacted Vinturi for his thoughts on the backlash, but no word back as yet. In the meantime, it seems he is aware of it, posting this comment under his Return Of Kings blog on Friday: