Threats, intimidation and violence against gay people in Russia is laid bare in a shocking Channel 4 'Dispatches' documentary to be aired this week.
In the run-up to the Sochi Winter Olympics, which start on 7 February, the country's human rights record has drawn criticism and protest around the world.
The documentary, 'Hunted', focuses on two anti-gay groups, Parents of Russia and Occupy Paedophilia, who use the internet to trick victims into meetings before ambushing them and forcing them to do humiliating acts.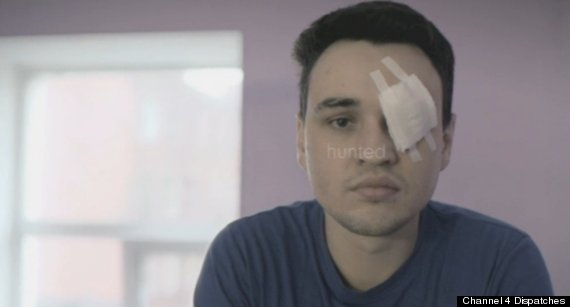 One of the victims in the documentary
Investigative journalist, Liz Mackean, who made the film said: "We filmed these groups with their knowledge, and what I found shocking afterwards was that only a few asked to have their faces disguised.
"They all believe they are doing the right thing.
"Occupy Paedophilia has groups in more than 30 cities. They operate with impunity and under the cover of the remarks [Vladimir] Putin has made suggesting that children are at risk from homosexuals."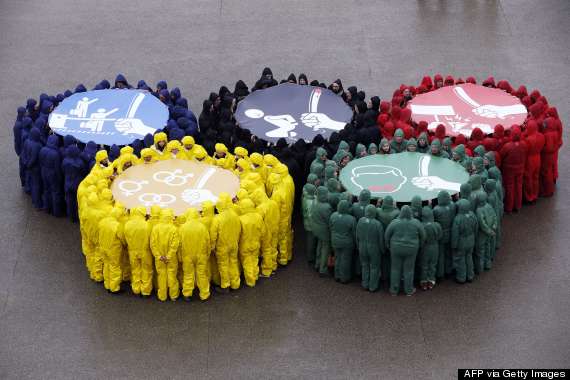 Activists of various NGOs gather to form the Olympics rings to protest against human rights violations in Russia
The Russian president has made some remarkable statements on the issue, notably that gay people are welcome in Russia "as long as they leave kids alone".
Gay rights activists around the world have called for a boycott of the Sochi Winter Olympics in protest against a law banning the dissemination of so-called "gay propaganda" to minors.
The ban was enacted in Russia in June and essentially bans displays of homosexuality. It is also "illegal to spread information about non-traditional sexual behaviour" to minors.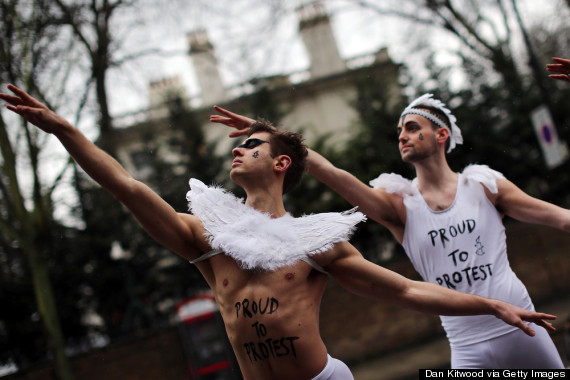 Protests have been held around the world, this was in London
Signed into law by President Vladimir Putin, the legislation gives the Russian government the right to detain gay or "pro-gay" foreigners up to 14 days before facing expulsion from the country.
Last month the Mayor of Sochi, Anatoly Pakhomov, insisted there were no gay people in the city and that homosexuality was not accepted in the area.
Opposition politician Boris Nemtsov, said Pakhomov's claims were ridiculous.
"As far as I know there are several gay clubs in Sochi. How do they survive? Why are they not bankrupt?"
'Hunted' will air on Channel 4 Dispatches on Wednesday at 10pm.