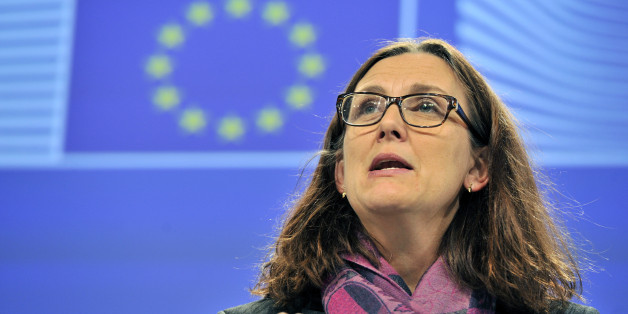 GEORGES GOBET via Getty Images
The European Union loses about £100 billion each year due to a "breathtaking" level of corruption across Europe, according to a major new report by the European Commission.
The report , which was the first study made by the Commission of corruption in all 28 EU member states, concluded: "Corruption alone is estimated to cost the EU economy EUR 120 billion per year [£99 billion], just a little less than the annual budget of the European Union."
Four out of ten businesses surveyed for the report said that corruption was an obstacle to doing business in Europe. Three quarters (76%) of EU citizens consider corruption to be "widespread" in their country, with 64% of Britons thinking corruption was "widespread" in Britain.
"The countries where respondents are most likely to think corruption is widespread are Greece (99%), Italy (97%), Lithuania, Spain and the Czech Republic (95% in each)," the report notes.
Writing in Sweden's Goetesborg-Posten newspaper, EU Home Affairs Commissioner Cecilia Malmstroem warned that corruption was undermining trust in democracy.
"The extent of the problem in Europe is breathtaking, although Sweden is among the countries with the least problems," she wrote.
"In some EU countries, the problem of corruption is smaller and easier to manage, in others it is significantly larger. It is only if all EU governments take the issue very seriously that we can get rid of the tumor on the body politic posed by corruption. It is all about trust, and about money. In a Europe that has barely come out of the economic crisis, we can not afford to drag our feet any longer."
The EU has its own anti-fraud agency, Olaf, but it is hampered by its limited operations, having a budget of just 23.5 million euros in 2011.
The European Commission's report comes as the head of the Organisation for Economic Co-operation And Development warned that the fight against global corruption requires nations to "keep at it".
Speaking at a conference at Chatham House in London, OECD head Angel Gurria warned that the bribery of foreign public officials by businesses was contributing to an "erosion of public trust".
He said: "Corporations need to stop bribing public officials, and that is going to help recover public trust and legitimacy, that is going to help markets work."
Gurria said that business used to treat bribing public officials in foreign countries as a "cost of doing business", adding that "governments have to make it a crime".