A businessman who purchased a £100,000 Marc Chagall painting has been told his painting will be burned after a BBC show found it to be a fake.
Martin Lang took the painting, which he bought in 1992, on the BBC Show, Fake Or Fortune?
The Chagall Committee in Paris inspected the work and found that it was, in fact, a fake, and must be burned under French law.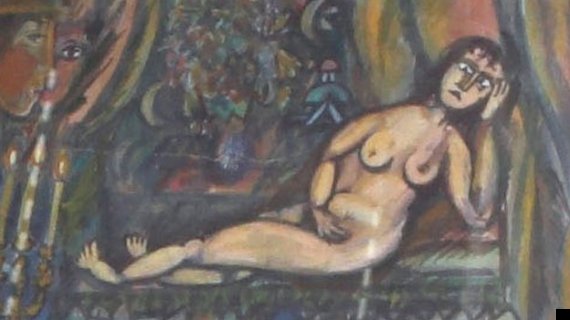 The painting which experts have deemed to be a fake Marc Chagall
Philip Mould, the programme's art expert, told the BBC that techniques for analysing paintings improved all the time, and new technology could yet prove the painting was real. "It seems to me bombastic in the extreme to assume that their decision is absolutely right forever. It's anti-academic," he said.
Lang, a property developer from Leeds, has asked the committee to mark the watercolour as a forgery, return it or reimburse him. But he has not received a response, calling the committee "draconian".
The programme's host Fiona Bruce said: "A decision like this forces the owner of any painting to play a kind of Russian roulette with their precious artwork.
"The only way for Martin to authenticate his painting was with the Chagall Committee, he had no other choice.
"But it was never made clear to him that if they didn't like the look of his painting that they would burn it.
"How can anyone ever approach this committee with a painting again if this is how they react?"