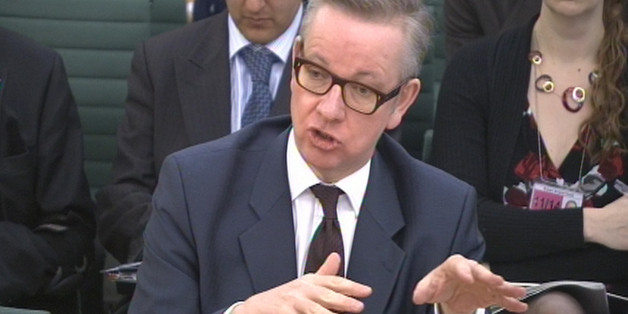 PA/PA Wire
Education Secretary Michael Gove is vowing to break down the "Berlin Wall" between state and private schools in education, opening up the opportunities available in the independent sector to more pupils than ever before.
In a keynote speech, Mr Gove said it is his ambition is to raise standards in the state schools in England to the point where they are indistinguishable from their fee-paying counterparts.
Addressing the London Academy of Excellence, he said the evidence shows "beyond any reasonable doubt" that English state education is starting to show a "sustained and significant improvement".
By further tapping into the expertise of the independent sector - which has already resulted in many independent schools sponsoring or co-sponsoring state academies - he will say that England's state schools can become the best in the world.
His intervention comes against a backdrop of bitter wrangling within the coalition, with the Liberal Democrats accusing the Education Secretary of trying to "politicise" schools inspectorate Ofsted, following the removal of its chairwoman, Labour peer Baroness Morgan of Huyton.
At the same time he is under fire from the teaching unions after he unveiled plans for a return to traditional methods of classroom discipline, including ordering misbehaving pupils to pick up litter, weed the school playing field, or writing out hundreds of lines.
Meanwhile a former Ofsted chief inspector has warned Mr Gove that he risks becoming isolated by listening only to his own supporters.
Writing for academic website The Conversation, Sir David Bell said he should "not believe his own hype" or surround himself with "yes men".
He said: "The day-to-day grind of policy battles, firefighting and political ding-dong can start to cut you off from outside ideas and thinking.
"The row over Ofsted's leadership shows the importance of retaining and being seen to retain independent voices near the top - not simply 'yes men'."
In his speech today, Mr Gove, who has made no secret of his desire to see state schools run more like independents, said the boundaries between the two sectors were already being eroded by the Government's free schools and academies programmes - a process he is determined to continue.
"Instead of reinforcing the Berlin Wall between state and private, as the current Labour leadership appear to want, we should break it down," he is expected to say. "Thanks to our reforms, private schools are opening their doors and their opportunities to more children than ever before."
He said that the improvements which had already been delivered meant it was no longer tenable to refer to "bog standard" state secondary schools - as Tony Blair's communications chief Alastair Campbell once famously did.
"When Channel Four make documentaries about great comprehensives - academies - in Essex and Yorkshire, when BBC3 make heroes out of tough young teachers, when even Tatler publishes a guide to the best state schools - you know tectonic plates have started to shift," he will say.
Mr Gove, who signalled at the weekend that ultimately he wanted to move to a longer school day to enable state pupils to enjoy the extra curricula activities available in the fee-paying sector, will say he is determined to build on those achievements.
"I want to see state schools in England the best in the world," he said.
"State schools where the vast majority of pupils have the grades and the skills to apply to university, if they want to; where a state pupil being accepted to Oxbridge is not a cause for celebration, but a matter of course; where it is the norm for state pupils to enjoy brilliant extra-curricular activities like sports, orchestras, cadets, choir, drama, debating, the Duke of Edinburgh scheme, and more.
"All those things are par for the course in the private sector - why shouldn't children in the state sector enjoy them? We know England's private schools are the best independent schools in the world. Why shouldn't our state schools be the best state schools in the world?
"My ambition for our education system is simple - when you visit a school in England standards are so high all round that you should not be able to tell whether it's in the state sector or a fee paying independent."