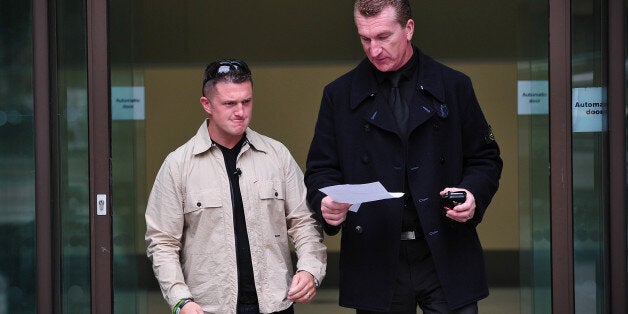 The think tank which orchestrated Tommy Robinson's departure as leader of the English Defence League asked for taxpayer funding for the "vital work" from the Department for Communities and Local Government (DCLG), according to newly-released emails.
Maajid Nawaz, the Lib Dem parliamentary candidate who heads up the counter-extremism thinktank, the Quilliam Foundation, wrote to Mark Caroll, a senior DCLG official, in October 2013, asking for government funding on the day Robinson left the EDL.
Doubt has since been cast by Muslim community activists and anti-fascist groups as to whether Robinson's "conversion" from the anti-Islam street movement to the mainstream was authentic.
Robinson is currently serving a prison sentence for mortgage fraud. He left the EDL on October 8th with Nawaz contacting Caroll at the DCLG on the same day to ask about funding.
In emails to Caroll released under the Freedom of Information Act, Nawaz wrote that "Quilliam has managed to facilitate the defection of the founder and leader of the EDL, Tommy Robinson (real name Stephen Yaxley), and his right-hand man and co-founder Kevin Carroll from their movement. In other words, the UK's largest right-wing street movement – the EDL - is being decapitated."
He said both men wanted to be "guided by Quilliam in their transition away from this movement" and the think tank had "offered to support these defections and are currently seeking to raise funds for the costs associated with supporting Tommy Robinson while he transitions away from his current financial dependency on the EDL, with a long term view of helping him reconsider his strategy and tactics under our long-term guidance."
The news was "unprecedented" he said, and said Quilliam had been bearing "all costs associated to it without a budget. Please let us know if you can urgently help us with a direct contribution so that we may fund Stephen's transition and cut off his previous dependency on EDL donors".
No email from the DCLG responding to the request was released under the FOI request. Another email from Nawaz, three days later, has however been released, in which the Quilliam chief said he was "keen to turning this into a project in which Tommy and I can start to reach out to his former members and pull them into the mainstream," adding that weekend's Guardian would carry an apology from Robinson.
"Currently, this we have no funding in place to engage in this vital work," he adds.
Tell MAMA's Fiyaz Mughal told HuffPost UK his "jaw dropped" when he saw the FOI.
"Previous Governments and this Coalition Government have made clear that no funding should go to individuals or groups with extremist views. That has been clear," he said.
The Damascene conversion of Tommy Robinson to rehabilitated individual in a few days of his press call left many anti-racist and anti-fascist organisations feeling that this was a ruse.
"In fact, a quick look of Tommy Robinson's fan page yesterday shows postings from extreme and Far Right groups as his affiliates continue to espouse and post such statements on his fan page. If he had really changed, he would have asked for a line to be drawn on such activities," said Mughal. "No such line has been drawn.
"Until real progress and change has been shown by Tommy Robinson, not a penny of Government funding should go to him.
"Doing so before real progress is shown will break the Government's own position on not funding extremists. In relation to Kevin Carroll, our opinion is that he is completely unreconstructed and far right narratives still pulse and excite his neurons."
The DCLG has not responded to requests for comment but the Huffington Post understands the funding request was denied. Nawaz has similarly not responded to the FOI's contents.
Nawaz himself is a former extremist, an ex-member of the Islamist group Hizb ut-Tahrir.
In recent weeks, Nawaz has been embroiled in a major row, including a petition demanding his de-selection as a Lib Dem candidate in Hampstead and Kilburn, over a tweet he sent containing a cartoon of the Prophet Mohammad.
Critics say the cartoonist in question has penned pictures which seriously offend Muslims.
The Lib Dem leadership said they would stand by him, and Nawaz claimed he had received "credible" death threats from his opponents.
In December, left-wing blog Political Scrapbook published figures showing the Quilliam Foundation received some £186,000 from the Home Office after April 2010, though Nawaz had claimed on Twitter last month that their government funding had ceased.
Related