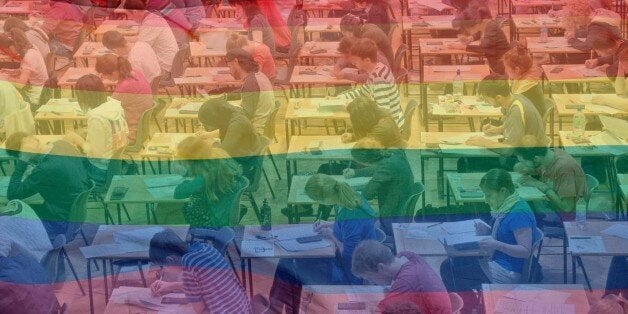 Some of Britain's top universities have been accused of failing LGBT students by claiming they do not face any abuse or discrimination on campus, despite warnings homophobia is "ingrained" in society.
In a series of freedom of information requests to UK universities, The Huffington Post UK found the majority had little or no reports of homophobic abuse in the past five years.
According to the National Union of Students (NUS) the figures paint a false picture of inclusivity and acceptance at university.
Speaking to the HuffPost UK, LGBT officers at the NUS warned universities were not taking homophobic bullying seriously enough, while Stonewall said abuse is "all too common" in Britain's educational institutions.
LGBT students are too scared to tell their universities about being victims of abuse, leaving many suffering in silence, while institutions have been accused of dismissing complaints as "banter".
Anecdotal evidence suggest students are subjected to homophobic language or behaviour at university. But of the 19 institutions in Scotland, Wales and England surveyed, five said they had no reports whatsoever of homophobic incidents.
Six universities had just one incident on record, while another four said it was "too expensive" to disclose their figures.
Scroll to the bottom of the article for the full figures
Even once incidents had been reported and logged, the majority of cases resulted in the perpetrator going unpunished and continuing at the university as normal.
Finn McGoldrick, one of the NUS' LGBT officers, warned universities are brushing off homophobic language as "banter" and are failing to take the problem seriously.
"I've heard instances of people who have been bullied in their halls and it's been they who have been removed rather than the bully," McGoldrick says. "Universities don't know how to deal with the problem."
"Hate crime reporting is phenomenally low. People are very reluctant to report it and there needs to be more done in student unions and universities to encourage individuals to come forward.
"Universities are wandering around in the dark, not really knowing what to do."
An "out in sport" report published by the NUS in 2011 revealed 14.3% of LGBT university and college students had experienced homophobia, biphobia, or transphobia which put them off participating in sport. A further 47% said they found the culture around sport alienating or unwelcoming.
Research by the Equality Challenge Unit revealed even more shocking statistics; LGB students reported "significant levels" of negative treatment on the grounds of their sexual orientation, with 49.5% having been discriminated by fellow students. A further 31% were subjected to homophobic abuse, while 15% had encountered threatening behaviour and 7% received physical abuse. Almost a quarter of trans students have been bullied or discriminated against since starting university.
The survey also revealed some LGB students reported experiencing "severe homophobic abuse" taking place at their university, with a fifth of LGB students and 29% of trans students taking time out of their course.
Luke Tryl, head of education at Stonewall, told HuffPost UK: "We know that homophobic abuse and particularly the use of derogatory homophobic language is all too common in Britain's universities. Sadly the HuffPost UK research shows that some universities appear to be burying their head in the sand when it comes to monitoring and recording incidents of homophobia.
"Our research shows that 67% of lesbian, gay and bisexual people who experience a homophobic hate crime or incident don't report it because they either worry a complaint won't be taken seriously or fear a negative response, a problem made worse when universities fail to put robust reporting mechanisms in place."
Liverpool University received the most complaints, amounting to 12, with one being referred to the police, however the individual was not disciplined. One of the institution's student newspapers documented the horrific experiences of one student abused for being gay but was told by the university's security: "Oh don't worry about it, it's all part of the fun."
Manchester University meanwhile do not even hold details of homophobic complaints and said it was unable to answer the FOI as it the information "is not held".
A similar pattern emerged across several of the institutions; Cardiff University only logged "informal reports", York University said it did not collate statistics on informal reports stating: "Incidents of harassment are dealt with as part of informal procedures." Of the "allegations" recorded, the institution did not know whether the case had been referred to the police, or even if the student had been disciplined.
Additionally, the university said there "may be problems in defining the term as 'homophobic abuse'". A spokesperson for the institution insisted homophobic incidents are handled with "due gravity at every stage" and informal procedures results in a "swift and effective resolution" of the issue.
McGoldrick adds: "We've had a lot of anecdotal experience of issues being brushed off as 'banter', with people saying 'Oh, that's just how things are'.
"Universities don't take it seriously enough. The impact that has on the individual student. If you feel your halls of residence, which is essentially your home, is no longer a safe space for you to be in, what will that do to your studies? Your self confidence? Universities need to take it much more seriously than they currently do."
Sky Yarlett, joint LGBT officer at the NUS with McGoldrick, says there are "many" cases of LGBT hate crimes which go unpunished.
"It is the responsibility of the institution to take the problem on and proactively say 'we are open and we are welcome'. Lots are doing that, but it's way more embedded than just one university. It's a societal problem.
"If you hear homophobic language from a young age and think it's acceptable then you go to school and think it's acceptable, you go to university and think it's acceptable. It just becomes an ongoing cycle."
According to both Yarlett and McGoldrick, students are scared to come forward because they are concerned about the consequences.
"It can be very daunting having to come face to face with what may very well be a hate crime," Yarlett says.
"Naturally," adds McGoldrick. "If you're in halls with six other people and one of them says they're being disciplined for a homophobic incident and you're the only gay person in the flat, then it doesn't take Sherlock Holmes to figure out who reported it.
"It is a problem. We need to do more around encouraging people to challenge that sort of behaviour.
"I doubt bullying policies are particularly well advertised to students," McGoldrick continues. "If someone in your halls calls you a faggot, then you should know what to do."
Indeed Bristol University only disclosed its policy after HuffPost UK asked twice, while University College, London, claimed it was "too expensive" to disclose its policy.
Glasgow University does not have a specific policy for reporting homophobic behaviour, while the London School of Economics did not disclose its policy when asked.
McGoldrick adds: "I'm not hugely surprised they don't have an LGBT specific bullying policy.
"I think institutions have some way to go before they step up to the plate in terms of their responsibility for LGBT students as a protected characteristic. And I think that is across the board, not just in terms of policies."
A spokesman for the University of Bristol said: "While we have received no official complaints of homophobic bullying, we would urge all students to report any incidents to a member of staff as there are procedures in place for dealing with such matters. Any complaints of this nature would be taken very seriously."

Popular in the Community