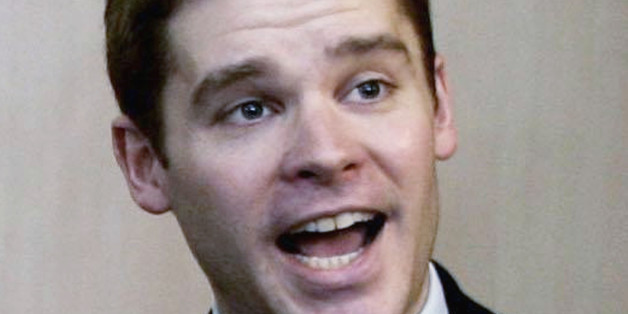 Andrew Parsons/PA Wire
Aidan Burley, the Tory MP at the centre of a row over a Nazi-themed stag do, will step down as MP at the next election, he has announced.
Last month, an internal Conservative Party inquiry found that the Tory MP for Cannock Chase, who was once tipped for high places in the party, was not racist or anti-Semitic, only "stupid and offensive".
Burley said in a statement: "After a difficult time I have decided to announce I will stand down at the next general election.
"I will continue to work for the people of Cannock Chase until that election, and look forward to supporting my successor, as soon as he or she is selected, to ensure that Labour have no chance of re-taking this seat.
"It was a wonderful surprise to win the seat of Cannock Chase in May 2010 with the biggest swing in the country and it has been a huge privilege to represent the people of Cannock Chase in Parliament over the past four years.
"I am grateful to all those who voted for me and supported our campaign which led to our famous victory."
Burley's seat in Cannock Chase had previously been held by Labour for 18 years, and Burley won with the biggest swing in the country in May 2010.
Conservative Party chairman Grant Shapps said in a statement: "Aidan has a strong record in his constituency from securing the future of Cannock Chase Hospital, to setting up local job fairs and getting hundreds of people back to work. He has served his constituents with dedication and commitment. I wish him the best of luck with whatever he does next."
Burley was dismissed as a parliamentary private secretary over the stag do in Alpine ski resort of Val Thoren in December 2011.
Groom Mark Fournier was fined £1,200 for wearing a full SS uniform with insignia, which had been supplied by best man Burley. The groom was also forced to pay £820 to an organisation representing the families of Holocaust victims. The wearing of Nazi attire is banned in France.
Burley caused another storm in summer 2012 when he branded the Olympic opening ceremony ''leftie multicultural crap''.