Philip Seymour Hoffman's role in the forthcoming 'Hunger Games' sequel will be finished using CGI, it has been reported.
The actor - who was found dead at his New York apartment on Sunday from a suspected drugs overdose - still had a week's worth of filming to complete on 'The Hunger Games: Mockingjay - Part 2' before his death.
The 46-year-old actor played head gamesmaker Plutarch Heavensbee in the film franchise. Philip Seymour Hoffman at the Los Angeles premiere of 'The Hunger Games: Catching Fire'
A source from the movie told The Hollywood Reporter that there won't be any rewrites for the rest of the shoot and that computer trickery will be used instead.
"You can do digital things, you can have conversations where you're not focusing on him but the people he's talking to," the source said.
Meanwhile, Rob Legato, a veteran effects supervisor, said: "These days the technology of using someone's likeness is a whole lot easier to do.
"I won't say you could generate a Philip Seymour Hoffman with all the acting ability, but you could certainly replicate him for a shot or two."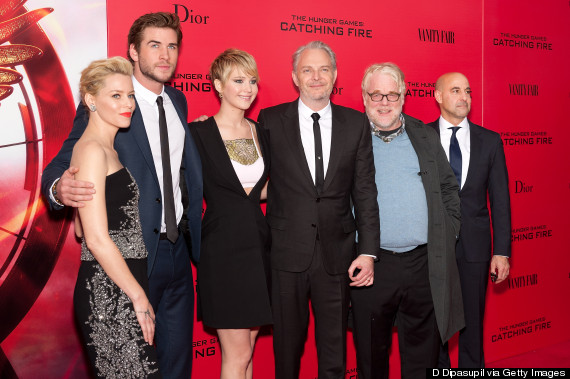 Philip Seymour Hoffman and the cast of 'The Hunger Games'
The cast and crew of 'The Hunger Games' - including leading lady Jennifer Lawrence - released a joint statement following the actor's death.
"Words cannot convey the devastating loss we are all feeling right now," they said in the statement. "Philip was a wonderful person and an exceptional talent, and our hearts are breaking. Our deepest condolences go out to his family."
The Hunger Games: Mockingjay – Part 2 is due for release in November 2015.
LIKE US ON FACEBOOK | FOLLOW US ON TWITTER