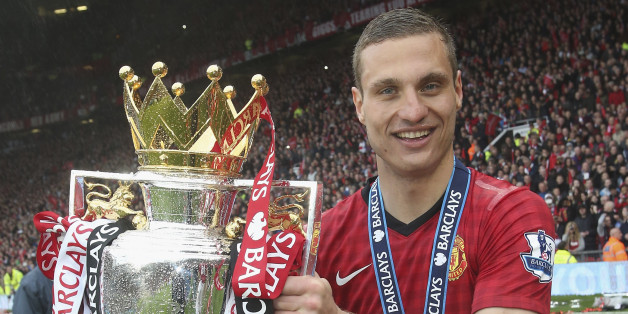 John Peters via Getty Images
Pepe Reina and Nemanja Vidić both moved to England in the 2005-06 season. When Reina left Liverpool on loan for Napoli in the summer, he bafflingly revealed his best moment was celebrating David N'Gog's clincher in a 2-0 win over Manchester United. Vidić's was when United won the 2008 Champions League.
"He comes from Serbia, he'll f*****g murder ya," the Stretford End sing. Vidić was instantly popular with United fans when he rejected Liverpool in favour of an Old Trafford move in January 2006. Rafael Benítez had identified him as one of the best young defenders in Europe when he was still at Valencia, and his move for the clunky and erratic Martin Škrtel in 2008 reaffirmed his regret at Vidić choosing Manchester over Merseyside.
After eight-and-a-half years with United, Vidić, 32, will leave in the summer. It was inevitable, when David Moyes confessed in September he wasn't aware the Serbian was out of contract at the end of the current campaign, but Vidić's last three seasons with United have been marred by injuries. He has played 54 times since the start of the 2011-12 season and has rarely resembled the indomitable presence since injury at West Brom on the opening day, but for a brief and brilliant spell that autumn.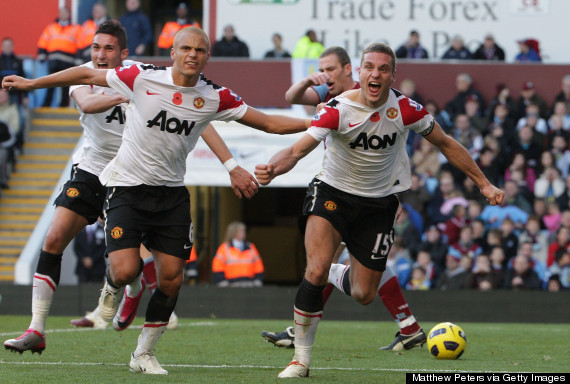 Vidić has scored a number of memorable goals for United, including at Aston Villa
"I never could have imagined winning 15 trophies and I will certainly never forget that fantastic night in Moscow, memories that will live with me and the fans forever," Vidić said. "However, I have decided that I will move on at the end of this season. I want to challenge myself again and try to make the best of myself in the coming years."
One of Sir Alex Ferguson's most underrated, yet pivotal, coups was convincing Vidić to ink a four-year contract in 2010. The club's player of the year in 2008-09, he was tempted to move to Italy amid reports his wife, Ana, was isolated, yet Ferguson intervened and Vidić was United's best player the year they won their record 19th title.
"I'm not considering staying in England as the only club I ever wanted to play for here is Manchester United and I was lucky enough to be part of this club for so many years," Vidić added. "I've got a few options to move on and I will choose the right one for me and for my family."
Vidić embraced Manchester. All three of his sons were born in Wythenshawe Hospital, where he revealed the £20 million refurbishment of the maternity unit two years ago and, contrary to reports, his wife settled in the north-west, where she studied accounting. The family were never intent on settling in England, and it is easy to envisage Vidić thriving in Serie A, where Juventus and Internazionale are both interested.
At £7 million, he will be remembered as one of Ferguson's bargain signings in the vein of Denis Irwin, Peter Schmeichel, Eric Cantona, Roy Keane and Cristiano Ronaldo. He formed one half of Ferguson's greatest ever partnership alongside Rio Ferdinand, who cost £22.1m more yet was arguably the inferior defender. From the moment the pair guided United to their first away win in Europe for nearly three years at Benfica in September 2006 they formed an understanding which led the club to three European Cup finals in four years.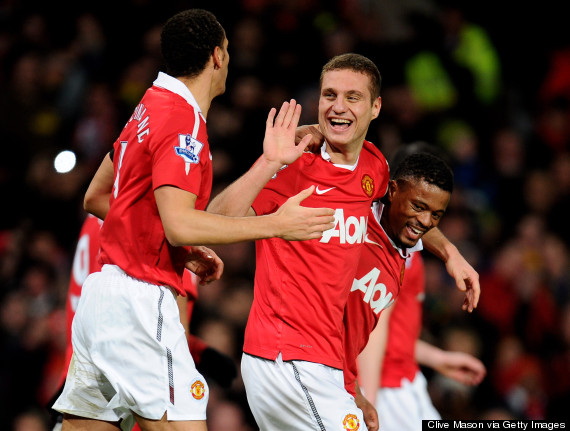 Bedrocks: Ferdinand, Vidić and Evra were part of United's finest defence under Ferguson
Ferdinand has played just 13 times this season and his form has nosedived drastically following an excellent 2012-13. He has featured just once since the new year and it would be illogical to retain him beyond his contract's expiration date in five months. Patrice Evra, an ever-present but also out of contract in July, has not experienced a worst spell since he first arrived at the club and has steadily regressed since the 2010 World Cup. In the space of six months, United's back four from the 2011 Champions League final (Fábio da Silva was the right-back) look set to leave the club.
The last time Vidić played he was sent off at Chelsea for a careless lunge at Eden Hazard. It was a day when United's experienced heads - Evra, Jonny Evans, Antonio Valencia and the like - confirmed it was time for change. It is just a shame for Vidić that after five Premier League titles, three League Cups, a European Cup and a Club World Cup his United career will likely end trophyless for only the second time.