A poster which replaced the image of God from the Sistine Chapel with a picture of the Flying Spaghetti Monster has been removed after with a row with a London University.
The South Bank University Atheism society created the graphics for their freshers' fair stall last week, but returning to the pre-prepared stall on the University campus for the first day of the fair, they allege the posters were removed by union representatives.
Cloe Ansari, president of the Atheist society, alleges she was told initially that the Michelangelo Sistine chapel ceiling was offensive in itself, because it included a "naked man". But she claims she was later told, having offered to blur the image, that the issue was that 'The Creation of Adam' is a religious painting.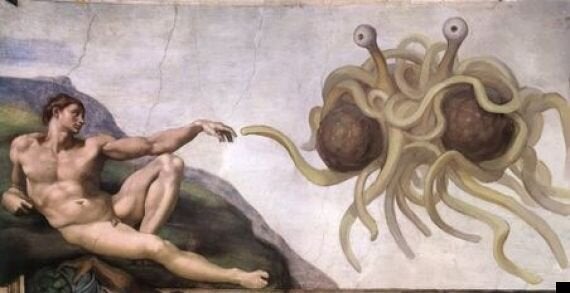 The flying spaghetti monster, depicted on the society's posters
Ansari claims the stall was removed entirely the following day and says she has lodged an official complaint, though a union representative told HuffPost UK that any such complaint had yet to be seen by officers.
"This incident is just one of a catalogue of attempts to censor our society," Ansari said in a statement.
"I never expected to face such blatant censorship and fragile sensibilities at university, I thought this would be an institution where I could challenge beliefs and in turn be challenged.
"All I have seen is religious sensibilities trumping all other rights with no space for argument, challenge or reasoned debate. It is not what I expected when I came to university."
Barbara Ahland, president of the Student's Union, told the HuffPost UK they had "been made aware of an alleged incident that took place at the Refreshers' Fayre last week.
"We are taking the allegation very seriously and an investigation is taking place."
The flying spaghetti monster is often used by atheists to critique belief in a supreme being, and features in Richard Dawkins' book The God Delusion. 'Pastafarianism' is a movement that parodies religion, and opposes the teaching of intelligent design.
The LSB Atheist Society is being supported in its complaint by the British Humanist Association, whose chief executive Andrew Copson said: "This silliness is unfortunately part of an on-going trend. In the last few years we have seen our affiliated societies in campus after campus subjected to petty censorship in the name of "offence" – often even when no offence has been caused or taken.
"Hypersensitive union officials are totally needlessly harassing students whose only desire is to get on and run totally legitimate social and political societies."
Ansari told the Atheist Society she felt the union "was not aimed at protecting other students from harm, but rather an attempt to sideline and restrict our rights; perhaps perceived as the easier option rather than standing up to the, much bigger than us, 'religious societies'."
The National Federation of Atheist, Humanist and Secular Students Societies called the move "utterly ridiculous". President of the NFAHS Rory Fenton said: This is beyond parody and it is not the first time one of our groups have had similar problems with Southbank University. We are very concerned by the tendency to censor our affiliated societies for fear of offending religious sensitivities by overly zealous union representatives.
"Universities need again to reminded to recognise our members' right to free speech: the same rights that also ensure freedom of expression for religious students, adherents to FSM whoever they are included. Universities must recognise that their duty is to their students, not their students' beliefs."
A spokesperson for the university said: "London South Bank University hosts student societies on campus with a wide range of viewpoints. We work with the Students' Union to achieve an inclusive and supportive environment for all of our students.
The incident, which took place in October, attracted nationwide attention, with famous atheist Richard Dawkins weighing in to criticise the institution.
Student Union officials had demanded the students remove the t-shirts, and several other pieces of literature, because there had been complaints from offended passers-by.
Related