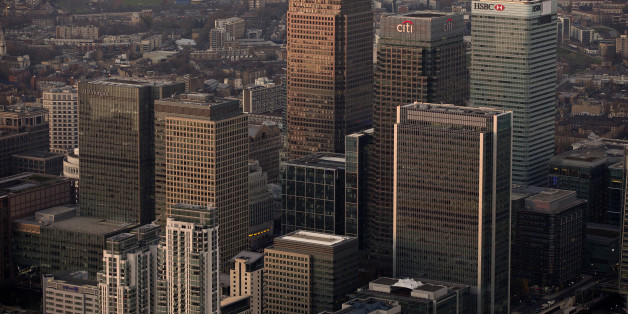 Bloomberg via Getty Images
Nearly 6,000 bankers, brokers and financial advisers in the City of London have been sacked or suspended for misconduct since the start of the financial crisis in 2008.
The Financial Conduct Authority revealed that 5,873 staff at British based banks and financial institutions had been sacked for dishonest or reckless conduct in the past six years, equivalent to nearly three people a day over the period.
The rate of bankers being suspended is still higher than 2008. Of the 150,000 people working in the sector, one in 160 was kicked out for misconduct last year, a greater figure than the one in 210 back in 2008. The figures came out after a Freedom of Information request.
Brooks Newmark, a Tory member of the Treasury Select Committee told the Times: "Given the opprobrium thrown at the banking community over the past five years, you'd think they'd be extra careful. The message isn't getting through. Where is their moral compass?"
The figures come as the big banks prepare to reveal that the cost of various mis-selling scandals like payment protection insurance has soared even higher.
The total bill for mis-sold PPI has hit £22 billion after Lloyds increased its estimate of the cost to £9.8 billion, with Barclays set to unveil a £1.5 billion drop in its annual profit due to how much compensation it has had to put aside in compensation.
Barclays has already revealed that it made a statutory pretax profit of £2.9 billion, which is up from its £246m profit in 2012.
Last year it emerged that 200 aspiring investment bankers failed a banking ethics test, despite it having a 98% pass rate.
Kirsty Ayre, of City lawyers Pinsent Masons, which gathered the data, said that banks have been "keener to get rid of bad apples".
She warned: "I don't think this is evidence of any increased malpractice."