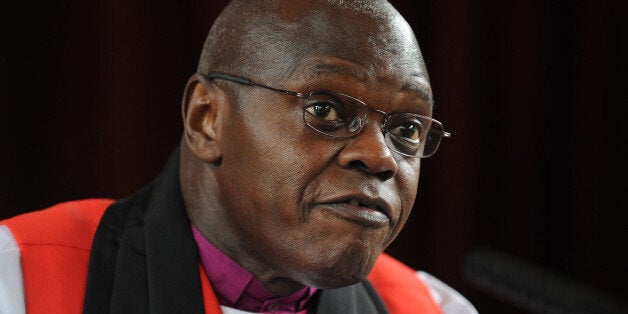 Archbishop of York Dr John Sentamu has warned that millions of workers will not benefit from the economic recovery unless they are paid a living wage.
A commission chaired by the Archbishop warned in a report that spiralling living costs and stagnating wages were creating a "double squeeze" on the lowest paid.
The report, the first produced by the independent commission, said over five million workers were paid less than the so-called Living Wage, set at £7.65 an hour (£8.80 in London), compared with the adult national minimum rate of £6.31.
The number of workers paid below the higher rate increased by 9%, or 420,000, over the past year, it was found.
Housing costs have tripled in the last 15 years while energy bills have rocketed by 88% in the past five years, research by the commission showed.
Low paid workers are hit hardest by rising prices and stagnating wages, said the report.
Dr Sentamu said: "The idea of making work pay is an empty slogan to millions of people who are hard pressed and working hard, but find themselves in a downward social spiral.
"They are often in two or three jobs just to make ends meet. Meanwhile the UK taxpayer picks up the bill in tax credits, in-work benefits and decreased demand in the economy.
"With the economy showing signs of recovery, employers that can pay a Living Wage must do so. They should choose between continuing to make gains on the back of poverty wages, or doing the right thing and paying a fair wage for a hard day's work."
The report said: "Britain has a low pay problem and it is getting worse. While Britain's economy begins a nascent recovery, this report shows that there is a very real danger that the nation's increased growth will not reach the lowest paid.
"Low paid workers are being squeezed from both sides as sharp rises in living costs are compounded by stagnating wages.
"One in every five workers are paid less than they need to maintain a basic, but socially acceptable standard of living.
"Working families are increasingly having to turn to food banks and credit to make ends meet. Stagnating wages and rising living costs hit those with the lowest income hardest.
"As prices rise and wages remain low, more and more low paid workers are finding it more and more difficult to get by."
The report found that prices of "everyday" items have risen faster than high priced goods, with food costing 44% more than in 2005 and energy prices doubling, while vehicle costs have remained stable and the cost of audiovisual equipment has halved.
The study added that children of parents on low pay are less likely to achieve at school, while a worker earning the Living Wage gets nearly double the amount of family time during a typical working week as somebody on the minimum wage.
TUC general secretary Frances O'Grady said: "The UK economy may be in recovery mode, but most people's pay packets have yet to experience a similar revival. For those families firmly stuck in low-pay Britain, life is tough, and they continue to struggle to make their wages stretch far enough to meet the cost of food, fuel and other essentials.
"Low pay is blighting the prospects of millions of workers, and we need urgent action to tackle the UK's serious, and worsening, low-pay problem.
"One way of easing the financial pressures on low-paid families would be for more employers to pay the Living Wage. Across the country, there are companies and organisations that could afford to do so, yet they continue to pay their staff poverty wages.
"If the recovery is to be one experienced by everyone in the UK, ending the squeeze on incomes and boosting pay - especially for those on very low incomes - is essential. As this report shows there are many people in Britain who very definitely need a pay rise."
Rhys Moore, director of the Living Wage Foundation, commented: "The best employers have recognised the challenge of increased living costs; and the impact this is having on their staff. They are voluntarily signing up to pay the Living Wage now.
"We have accredited over 550 leading employers ranging from big businesses as well as independent small businesses including hairdressers, cafes and printers, who all recognise that clinging to the culture of low pay is not good for business. Customers expect better than that."
John Longworth, director general of the British Chambers of Commerce, said: "Making ends meet is clearly an issue of huge concern to many in Britain today, and we applaud all of those businesses that pay, or aspire to pay, their staff above the living wage.
"That includes a huge majority of Chamber of Commerce members, with 61% paying all staff at or above the living wage, and a further 20% paying most staff above the living wage rate.
"Yet many businesses tell us that there is a limit to what they can afford. Sixty percent of companies say that at present, the national minimum wage should rise - but by no more than inflation, so as to avoid pressure to raise pay across all levels of a business.
"Prudent rises in the minimum wage, and praise for those businesses that aspire to a living wage, is the right way to preserve jobs."
Popular in the Community