Green campaigners in Scotland have urged the Scottish government not to "waste another second" on Donald Trump and his controversial golf resort development, after he lost a legal challenge to an offshore wind farm project
US billionaire Trump has lost a legal challenge to an offshore wind farm project within sight of his Scottish golf resort.
The businessman's legal team went to court in November to oppose the 11-turbine European Offshore Wind Deployment Centre off the Aberdeenshire coast, claiming it would spoil the view from his luxury golf course.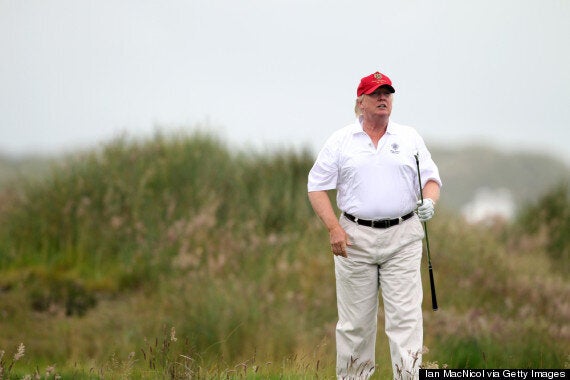 Donald Trump plays a round of golf after the opening of The Trump International Golf Links Course
A petition lodged by Trump International Golf Club Scotland and the Trump Organisation asked the Court of Session in Edinburgh to rule that the Scottish Government's approval of the wind farm was unlawful and the decision should be overturned.
But judge Lord Doherty has rejected the legal bid by dismissing the petition.
Green MSP Patrick Harvie, who has long campaigned against Trump's controversial golf resort development, said: "Donald Trump is a man who actually peddles the paranoid fantasy that climate change is a communist conspiracy. Scotland can't afford to waste another second on him."
A Scottish Government spokeswoman said: "Scottish ministers are pleased that the court has found in their favour.
"The proposed European Offshore Wind Deployment Centre is an important project for Aberdeen and north east Scotland. It will give the industry the ability to test and demonstrate new technologies to accelerate its growth.
"Aberdeen is already of global importance for hydrocarbons and this wind deployment centre cements its role in renewable offshore development, further positioning Aberdeen as the energy capital of Europe and a world energy centre."
The Trump Organisation said the turbine development is doomed, despite the court ruling.
"Today's decision has not altered our unwavering commitment to protect our investment in Scotland," it said.
"We are reviewing Lord Doherty's decision and will pursue the legal options available to us as recommended by our counsel.
"Communities worldwide continue to challenge the destructive proliferation of wind turbines and we will remain a fierce opponent at the forefront of this battle.
"Despite today's decision, the EOWDC proposal has numerous economic and legal obstacles that will ultimately prevent its construction."
Senior members of the tycoon's executive team, including his son Donald Trump Jr, attended court for a hearing on the issues spanning several days last year.
Trump has previously said he will pull the plug on his own controversial plans to finish his proposed resort at Menie Estate, near Balmedie, with a large hotel, holiday homes and a residential village, if the windfarm goes ahead.
The offshore project was put together by Vattenfall Wind Power and Aberdeen Renewable Energy Group.
Under the plan, the turbines will have an installed capacity of up to 100MW and over one year would be capable of yielding, on average, enough electricity to power 68,000 UK households, according to the group behind the project.
A change to the application in August 2012 increased the proposed height of some turbines to just short of 200 metres, prompting further anger from Mr Trump. Closer to shore, the maximum height would decrease from 195 metres to 180.5 metres.
Last May, majority shareholder Vattenfall announced it was paring back investment in the scheme, calling on potential investors to realise the £230 million cost. At the time the firm had invested around £5 million.
Trump's legal action was against the Scottish Government's approval of the windfarm, which was granted in March last year.
Lawyers acting for Trump sought judicial review of the Scottish Government's decision not to hold a public inquiry in relation to the windfarm application and of their decision to grant consent for the project.
Trump International and The Trump Organisation, known as the petitioners in this case, challenged the decisions on several grounds.
They argued that ministers had no power to grant the consent and that doing so was "irrational".
The petitioners also maintained that for various reasons, including certain remarks said to have been made by the First Minister, a fair-minded person would conclude that there was a real possibility of bias on the part of the decision-maker.
They argued that a decision not to hold a public inquiry in relation to the planned project was "unreasonable" and further claimed their rights under the European Convention on Human Rights (ECHR) had been breached.
But the judge, who is issuing his findings in a written decision, rejected the legal bid.
A summary of the opinion issued by the Judiciary of Scotland stated: "Lord Doherty dismissed the petition."
It went on: "He was not persuaded that the fair-minded and informed observer would conclude that there was a real possibility of bias on the part of the decision-maker; or that the decision not to have a public inquiry had been unreasonable or unlawful."
He further ruled that the petitioners' rights had not been breached and was satisfied that Energy Minister Fergus Ewing "was entitled to grant consent subject to the conditions which he imposed".
WWF Scotland director Lang Banks said: "This result is great news for Scotland and for all those interested in cutting climate emissions and creating jobs.
"It's good to know that despite all his bluster, the courts saw right through Trump's flimsy, misguided attempts to frustrate Scotland's ambition to create clean power and green jobs. We hope Trump will now stop wasting any more time and money on this case."
RSPB Scotland also welcomed the court's decision, saying it has worked closely with developers to minimise any significant risk from the windfarm to birds.
Aedan Smith, head of planning and development for the conservation charity, said: "We need offshore wind to help reduce carbon emissions and tackle the climate change already causing problems for people and wildlife in the UK and across the world.
"The Aberdeen Bay windfarm is a small but important pilot. We need to get it working as soon as possible, and we need to monitor it intensively to find out how birds react to it.
"The information gathered from Aberdeen Bay will be critical in helping design the much larger windfarms proposed for Scotland's coast so that they can be built without harming Scotland's internationally-important seabirds and other marine wildlife."