A 10-mile section of a busy motorway has been closed in both directions after a huge, 50ft-deep hole appeared in the central reservation.
Long tailbacks built up after the M2 in north Kent was shut between junction 5 near Sittingbourne and junction 6 south of Faversham.
The Highways Agency said the hole measured 16ft (5m) by 6ft (2m) and was 50ft (15m) deep.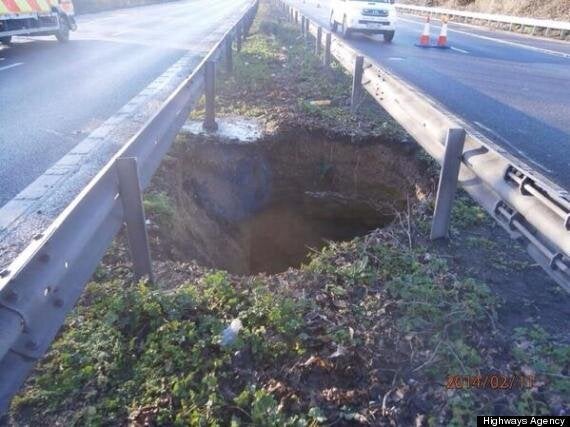 The sinkhole opened up on the central reservation
A spokeswoman said: "The road has been closed while urgent safety checks are made following a large hole opening up in the central reservation.
"Agency staff and contractors are working hard to inspect the hole and make the necessary repairs and lanes will be reopened when it is safe to do so."
She added that there were delays both east and westbound in the area of the closure and urged drivers heading to and from the port of Dover to use the M20 instead.
Motoring organisations have warned about the danger of potholes this winter while the Local Government Association has also highlighted the problem and has expressed concern at funding levels for councils.