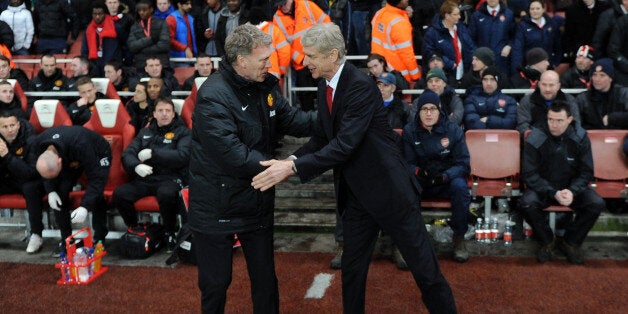 The elephant in the room wasn't addressed but it didn't have to be. For the 14th time in his managerial career, David Moyes sat down for the post-match inquest having failed to manage his team to victory at Arsenal. Manchester United's goalless draw was, at the final-whistle, not as demoralising as their surrender to Fulham on Sunday and, besides, Liverpool were losing 2-1 at Fulham. Then the final score from Craven Cottage was announced.
United's priority now, arguably, is not to qualify for Europe. They are 11 points behind Brendan Rodgers' side in fourth, and even though next year's Europa League winners will qualify for the Champions League, it is not a competition a club of United's stature should view as a viable route.
Moyes remains optimistic of a top four finish on a night he effectively, and finally, accepted there would be no championship.
"I keep saying it, but I'll try to win the next game and see if we can pick it up," Moyes said. "If there's one club in history that's been great at winning games in the second half of the season, putting pressure on other clubs, it's been Manchester United. We'll continue to try to do that and see if we can make it work.
"We can only do our job the best we can. We can only play better, we want to play better. We can't worry about other teams. We just want to put pressure on them by winning our games."
But has the hunger subsided amongst players who achieved so much under Sir Alex Ferguson?
"I see them [the players], I think they're great lads. Their attitude to training, their commitment is first class. You saw it tonight how good Vida [Nemanja Vidić] was, how good Rio [Ferdinand] was when he came on, they're a great group of players, very experienced players and they've been winners. They've all got medals and when you've won you want to win more. When you've won you want to win more so I think they're all still hungry and determined to be successful."
That Moyes focussed on two defenders who rolled back the years with an accomplished rearguard performance highlighted how cautious United were on Wednesday night, despite Robin van Persie squandering two presentable chances either side of the interval.
Gallingly, the Scot is still yet to register a win at Arsenal, Liverpool or Chelsea in the 12 years he has managed in the Premier League. Ferguson compensated when he was unable to with titles in the 2008-09 and 2010-11 seasons.
Arsène Wenger admitted Arsenal's 5-1 humbling at Liverpool had affected their performance and hinted he was satisfied with a draw.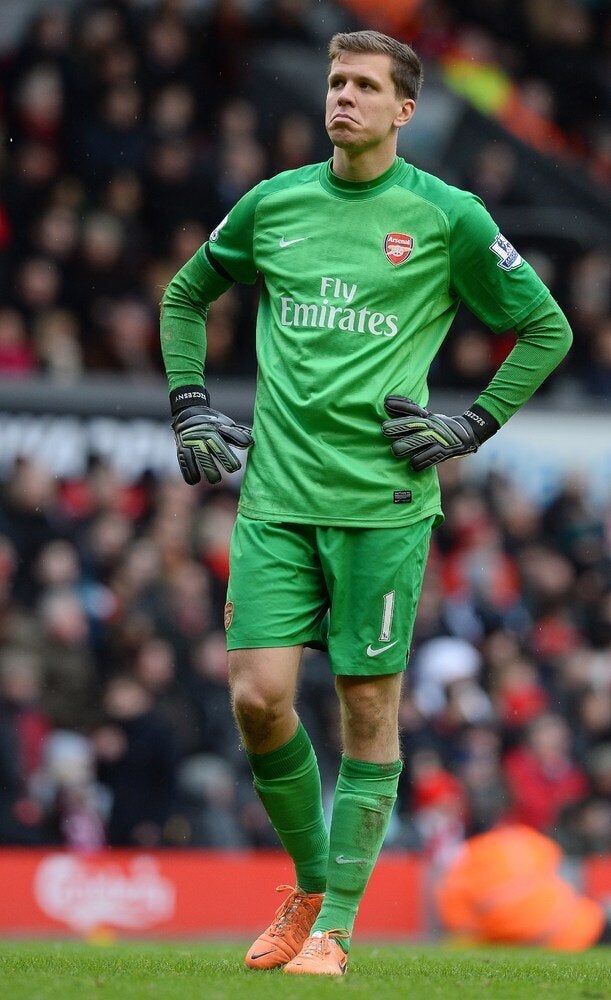 Arsenal-United Player ratings
"It was important not to lose, but it was also important to win," Wenger conceded. "I felt we were nervous. Our team was highly focused not to concede, and that maybe restricted our game going forward a little bit because we were certainly hit by the five goals we conceded on Saturday, and you could feel that here."
Was the nervousness worrying for a team a point adrift of the league leaders? "It's not worrying because we care about what we do and when you concede five goals like we did on Sunday ... we are only human beings."