Southern Britain is braced for a "Wild Wednesday" of severe storms and rising water levels, with no prospect of an end to the misery in sight.
The Government's Cobra emergency committee will convene again this morning after David Cameron pledged that "money is no object" in providing relief to communities devastated by floods.
But the Prime Minister also warned that "things may get worse before they get better", with hundreds of flood warnings and alerts still in force.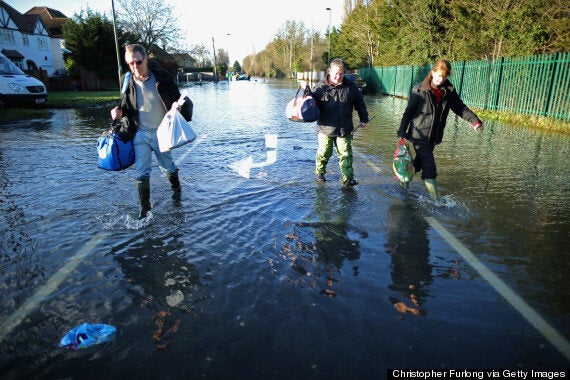 Residents evacuate their flooded homes in Chertsey, United Kingdom
Forecasters are warning that some of the strongest winds of the winter could hit today, with gusts of up to 100mph on exposed parts of the Welsh coast.
The storm could fell trees and cause transport and power disruption, with winds in the South West potentially reaching 80mph. And there is continuing disruption to rail services in the Thames Valley and West Country.
Yet more rain is on the way. The Met Office forecasts 15-40mm (0.6-1.5 ins) within across many southern and western areas, with as much as 70mm (2.75 ins) by Friday in the already sodden West Country, south Wales, western Scotland and Northern Ireland.
Some 600 troops have now been deployed to assist with flood protection and relief, with around 1,000 on standby, and the Prime Minister said "thousands more" were available for tasks like filling and moving sandbags, getting medical assistance to the sick and helping vulnerable people.
Residents in Staines, Surrey were evacuated from their flood-hit homes during the night, Sky News said, while a primary school in Wraysbury, Berkshire, was reportedly turned in a "24/7 control centre" for residents affected by flooding, the BBC said.
It reported that army personnel had been on the streets during the night to help police, and that the army and police had set up checkpoints to monitor who comes and goes in the area following fears of looting at the homes of flood victims.
Lucy Foster, who has been helping to co-ordinate the operation, told the BBC morale and energy had been low in Wraysbury because the village had been looking after itself for so long.
She said: "Finally we've got the boys and girls that we need - we've got the Army, the police force, the fire service and getting a lot of support from them and a lot of direction from them, which is what was needed."
Around 1,000 homes in the Thameside village of Datchet were left without power during the night after power cuts which initially affected 1,700 properties and left engineers scrambling to fix the fault.
The Environment Agency (EA) has said rises in the level of the River Thames are among the biggest threat over coming days.
Windsor and Maidenhead, Berkshire, as well as parts of Surrey, are now considered at risk, on top of the 1,000 properties reported as flooded over the past week.
Since the beginning of December, a total of 5,800 premises have flooded - although the agency also stressed that 1.3 million have been protected by defences.
EA senior flood adviser Kate Marks warned it was "increasingly likely" that there would also be problems along the River Severn and River Wye.
Sixteen severe flood warnings - danger to life - remained in place in Berkshire, Surrey and Somerset this morning, with a further 125 flood warnings and 228 flood alerts.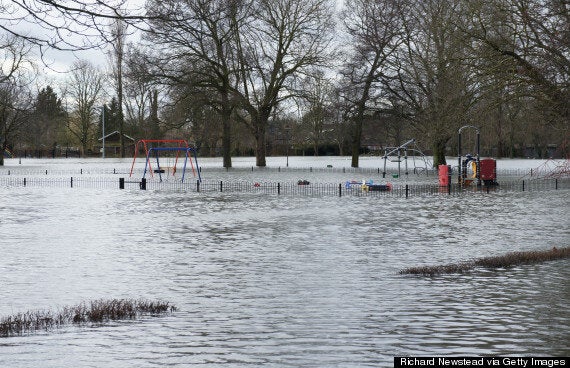 Flooded children's playground and park during the Datchet Floods
About 100 properties remain flooded on the Somerset Levels, where extra pumps are being brought in from the Netherlands, and groundwater flooding is also expected in the coming days in Hampshire, Kent and parts of London. The Thames barrier closed again yesterday to protect communities to the West of the capital.
"Money is no object in this relief effort. Whatever money is needed for it will be spent," he said.
The Prime Minister chaired Cobra in Whitehall last night and will lead another meeting this morning. Tomorrow he will chair a new Cabinet committee set up to oversee the recovery.
He said a tax deferral scheme will help businesses hit by flooding, while up to £10 million in new funding is being found to support farmers. Grants of several thousand pounds for homeowners and businesses will be available to improve flood defences as they repair their properties.
The PM rejected calls to divert funds from the overseas aid budget to the flood relief effort, insisting that, as a "wealthy country with a growing economy" Britain does not have to choose between the two.
Appointing Major General Patrick Sanders to co-ordinate the military response, he said local authorities should not think twice before calling on the resources of the armed forces.
Labour leader Ed Miliband called on ministers to ensure insurance is paid promptly and protect access to insurance in future for people in flood-hit areas.
Speaking after a visit to flooded areas of Berkshire, Miliband said: "The Government should be getting round the table with the insurance industry immediately to ensure every firm is signed up to clear principles of prompt assessment and payment. Now is not the time for foot-dragging of the kind we saw after the riots."
Insurers and business organisations met in Downing Street to speed up the response to claims from flood-hit companies.
And Cameron said that householders who experience difficulties with insurance should tell their local MPs, so the authorities can "go after those insurance companies and make sure they pay up". Local authorities will be able to request top-ups from central government for hardship funds for those with no insurance.
Cameron acknowledged that it would take a "depressingly long period of time" for the country to get back to normal.
Repairs to the seafront rail link at Dawlish in Devon are expected to take six weeks, while pumping the water from the Somerset levels would take "a lot of time" even if there was no more rain. Even after water levels drop, householders face a "really painful and depressing process" of restoring their homes and replacing furniture.